By Lookout Staff
September 12, 2018 -- The very different styles of two student artists at Santa Monica College's emeritus program will be exhibited at the school's Downtown gallery starting this month.
The exhibition of colorful abstract works by Earleen Ahrens and black and white photographs by Jonathan Tillman kicks off with a reception at 5:30 p.m. Thursday, September 27, at SMC's Emeritus Art Gallery.




The former owner of Warp, Woof and Potpourri in Pasadena, where she taught hundreds of women the art of weaving, Ahrens creates paintings and sculptures that are "abstract and potently colorful," exhibition organizers said.

"She uses a wide range of materials in her work, and often presents visual themes involving circles, spheres, spirals, and other types of round objects in clusters."

The works reflect her background as an object-maker and jeweler and are inspired by her travels around the world, Ahrens said.

"My paintings, sculpture, and jewelry come from a deep place in my conscious memory," she said. "I never make art from a photo or model.
"I have traveled throughout the world and have internal visions of places and happenings. My work is one of the many joyful experiences in my personal life. Art has been with me from early childhood."
By contrast, Tillman's photographs are "documentary in nature, intended to capture what Henri Cartier-Bresson describes as 'the decisive moment,'" exhibit organizers said.
"Tillman's photographs, renowned for their beautiful composition and light, often feature powerful social subjects," organizers said.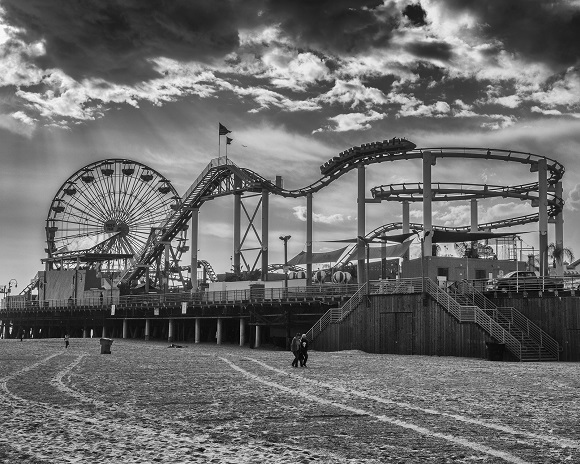 Photograph of the Santa Monica Pier by Jonathan Tillman
"With great elegance, he captures images of ordinary life, elevated to the extraordinary through the discovery of something that is completely apparent, yet has been 'hiding' in plain sight."
Tillman says he attempts to turn the moment into a "coherent visual statement."
"The reveal," said Tillman, "is facilitated by an object, a momentary gesture, a camera angle, and/or the direction of light, alone or in combination with others, that unifies seemingly unrelated elements in order to produce a coherent visual statement."
The free exhibition will run through November 7. The SMC Emeritus Art Gallery is located on the first floor of the SMC Emeritus Campus, 1227 Second Street in downtown Santa Monica.
Parking is available next door in Santa Monica Public Parking Structure 2.