By Lookout Staff
September 7, 2023 -- Selected works by d'Arcy Hayman, "one of the great unsung heroes of 20th century art," will be on view at the Santa Monica College (SMC) Emeritus Art Gallery, exhibition organizers said.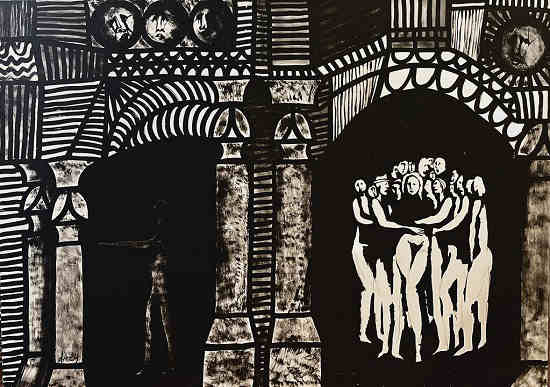 The exhibition -- which opens simultaneously at the gallery and online on September 21 -- presents a limited survey of Hayman's aesthetic as "pioneer painter and poet" and her social achievements.
The online opening reception includes "a live scroll through the exhibition, a discussion about selected works, and a Q&A offering guests the chance to interact with the exhibition organizers and ask questions," organizers said.
The exhibit, which runs through December 1, displays works spanning Hayman's career -- "from beautiful watercolor and gouache scenes of jazz clubs, beat cafes, and burlesque houses, to oil paintings that boldly explore sex and intimacy."
The works include "whimsical, colorful scenes of flying children," "sparse abstractions," "striking nudes" and "meditative images of motherhood," organizers said.
"These pieces offer a glimpse into the oeuvre of a pioneer whose recognition is long overdue."
Born in 1924, Hayman emerged from "the milieu of the Jewish émigré community of Los Angeles and the bohemian subculture of San Francisco" to become "a stateswoman and crusader for global art," said exhibition co-organizer Dominic Donnelly.
In her capacity as head of the arts and education departments in UNESCO from 1960 to 1980, Hayman traveled across the globe "on a mission to make access to art and creative expression a universally accessible human right," Donnelly said.
Futurist, inventor and writer Buckminster Fuller predicted that "all of (Hayman's) work will live on to be included with the best work of [the] extraordinary 20th century."
The free, live Zoom Virtual Launch Event for the exhibition will be held online from 5 p.m. to 6:30 p.m. on Thursday, September 21. A link at smc.edu/emeritusgallery goes live at event time and takes guests directly to the exhibition's opening reception.
In-gallery viewings are available through December 1 during gallery hours posted at the gallery's website. Viewers who would like to see the artwork online at any time after 5 p.m. on September 21 can visit the website and click the exhibition link.