By Lookout Staff
October 31, 2022 -- A botched robbery at a convenience store in Santa Monica Saturday night resulted in a shooting after the two homeless suspects were pepper spayed by the victims.
The incident took place at around 9:30 p.m. at the 7-Eleven store near Pico and Lincoln boulevards, where officers responded to a report of shots fired, police said.
When police arrived, they found the glass from one of the front doors and from the window next to it shattered, said Sgt. Erika Aklufi.

The two on-duty employees and several witnesses, who were not injured, told police that "two suspects came into the store, took a case of beer, and tried to leave without paying," Aklufi said.
"One employee tried stopping the suspects and pepper sprayed the first suspect as he exited with the beer.
"The second suspect started arguing with the employee and was also pepper sprayed as he left," Aklufi said.
"During the argument, the first suspect returned to the front of the store with a handgun and a shooting occurred."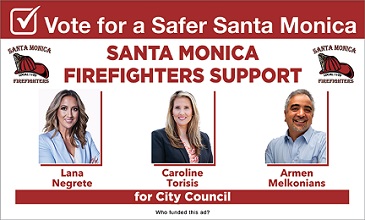 Officers quickly located one of the suspects, identified as Jason Salgado, near the corner of Lincoln Boulevard and Michigan Avenue, according to police.
The second, identified as Marvin Smith, was found at a Halloween party in the neighborhood.
Smith was arrested after the party's host flagged down officers and told them a man had wandered into the gathering. The description given matched that of the shooter.
Police found Smith hiding nearby and took him into custody.
Smith, 33, was arrested for attempted murder, attempted robbery, carrying a loaded firearm and conspiracy.
Jason Daniel Salgado, 30, was arrested for attempted robbery and conspiracy.
Charges may be updated as the investigation continues, police said.
Anyone with additional information concerning the incident or subjects involved should call the Criminal Investigations Division at 310-458-8451 or the Santa Monica Police Department's Watch Commander (24 hours) at 310-458-8427.