By Jorge Casuso
October 27, 2022 -- As the hotly contested race for City Council entered the homestretch this week, seven candidates and the PACs that support them still had more than $400,000 left to spend.
Half of that -- $207,000 -- was in the war chests amassed by the police and firefighters unions, according to campaign disclosure statements filed with the City Clerk.
That was more than the $126,000 left in the coffers of the other six political action committees that have filed campaign statements due by the end of Friday.
Of those, the Community for Excellent Public Schools (CEPS) had the most money left to spend, with $37,012 of the $43,701 it had raised to back its School Board and Council slates.

In the November 8 race for three Council seats CEPS is endorsing Councilmember Lana Negrete, Rent Board Commissioner Caroline Torosis and former League of Women Voters president Natalya Zernitskaya.
Santa Monicans for Renters' Rights (SMRR) -- which raised an average of $131,796 in the five election years before the coronavirus shutdown in 2020 -- has $21,062 left to back its slate of Torosis, Planning Commissioner Ellis Raskin and Jesse Zwick.
The once mighty tenants group raised a total of $75,301 this year, thanks in large part to a $20,000 contribution from Mayor Sue Himmelrich and another $6,053 from Zwick and Torosis.
Another major player that has lost its financial clout is Santa Monica Forward, which raised a total of $20,200 after losing key fundraising connections to major developers.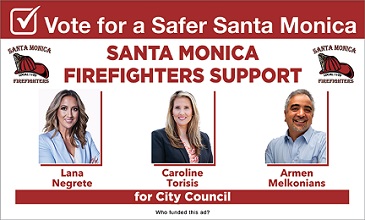 Of the total raised, $10,350 came from $1,725 contributions made by Zwick, Torosis and Zernitskaya and the three School Board candidates on Forward's slate.
As of Saturday, the group -- which raised nearly $220,000 in the 2020 Council race -- had $18,997 in hand and debts totaling $10,350, according to the group's disclosure statement.
Santa Monicans for Change, which was soundly outspent by Forward in previous elections, had raised a total of $69,804 to back Negrete and slow-growth activist Armen Melkonians and had about $16,000 cash in hand.
While the newly formed Santa Monicans for Residents' Rights, which raised $55,000 thanks to a $50,000 contribution from real estate investor Sergey Vershinn, has spent $23,450 backing Melkonians.
The group had $20,829 left to spend as the race entered the final two weeks.
But it is the Police and Firefighters unions that have the most to spend, although in the past the two politically powerful groups have stashed away funds for future elections.
As of Saturday, the Santa Monica Firefighters Political Activities PAC had $116,961 left to spend on its slate of Melkonians, Negrete and Torosis.
The Police Officers Association had $90,358 to spend on Melkonians, Negrete and Recreation and Parks Commissioner Albin Gielicz, but had $32,797 in outstanding debts.
A key question is whether the public safety unions will use their cash to mount a last-minute blitz for Negrete and Melkonians, who have been the target of a hard-hitting campaign by the hotel workers union.
Unite HERE Local 11 -- which has not yet filed its latest statement -- spent $57,230 on the first mailer opposing Negrete, and more than $30,000 backing Torosis, Raskin and Zwick, the slate of candidates it shares with SMRR.
Since the last finance disclosure filing for the period ending September 22, the union has filed 30 separate statements and sent a number of mailers targeting Negrete, as well as Mekonians.
As election day approaches, seven of the 11 Council candidates had a combined total of $75,194 left in their campaign coffers when the latest filing period ended Saturday.
Zwick had the most cash in hand with $26,049 of the $53,539 he had raised, followed by Zernitskaya with $17,897 of the $40,418 raised.
Negrete had $16,176 of the $54,821 in total contributions to her campaign, while Gielicz had $10,565 of the $10,565 he raised still in hand.
Torosis, the top fundraiser with $71,859, had $3,766 left, while Raskin had $741 of the $22,689 in contributions to his campaign.
Melkonians has not yet filed the finance disclosure statements due by the end of Friday.
Editor's note: This report will be updated when the remaining campaign finance disclosure statements are submitted.