By Lookout Staff
October 26, 2022 -- More than 400 Westside residents helped raise more than $122,000 during at this year's Santa Monica Walk to End Alzheimer's on Sunday.
The three-mile walk from Crescent Bay Park is part of a nationwide effort to fund the care, support and research programs of the Alzheimer's Association.
"We are thankful to all those who walked and all those who donated to support this important cause," said Alzheimer's Association Walk Manager Donna Cohen.

"The funds raised are critical to continuing our many programs which support families and to finding a cure to this progressive, fatal disease."
The Judy Fund Team led the local fundraising effort, raising more than $16,400, association officials said.

This total raised Sunday nearly matched the $127,063 raised at last year's event that started at the Pier.

One of 13 walks in Southern California, last year's walk helped bring in a total of $1.63 million.
This year, some of the communities -- including the San Fernando Valley, San Gabriel Valley, Westlake Village and Santa Clarita -- hosted events this month. Others including Los Angeles and Huntington Beach will hold walks in November.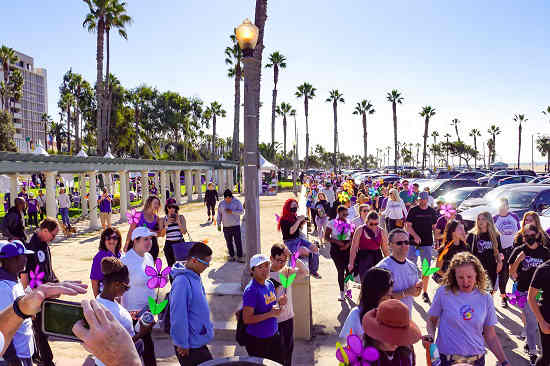 Sunday's Santa Monica Walk to End Alzheimer's (Courtesy of the Alzheimer's Association, California Southland Chapter)
The California Southland Chapter provides free educational programs, support services and care consultations across seven counties and supports "critical research" towards a cure, according to Alzheimer's Association officials.
The Alzheimer's Association also offers care and support through the Alzheimer's Association 24/7 Helpline, 800-272-3900.
The Alzheimer's Association California Southland Chapter serves Los Angeles, Riverside, San Bernardino, Kern, Kings, Tulare and Inyo counties.

For more information on the care and support, research, and advocacy programs made possible by walkers, visit alz.org/socal.
For more information on the Alzheimer's Association Walk to End Alzheimer's, visit alz.org/walk.