By Jorge Casuso
November 11, 2022 -- Skaters can hit the ice for the first time in nearly three years during the grand opening of Ice at Santa Monica next Wednesday, Downtown officials announced this week.
The opening was delayed a week after a major storm blew through the region last Wednesday, washing off much of the snow that had been laid at the rink at 5th Street and Arizona Avenue.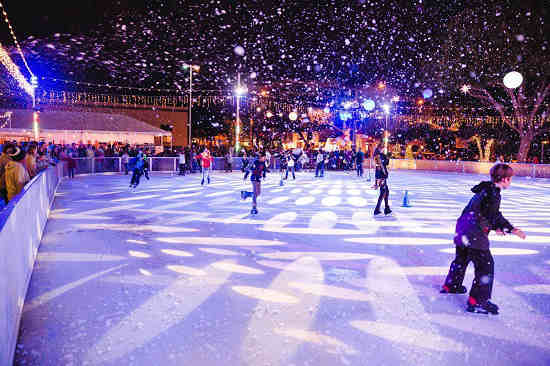 ICE at Santa Monica (Courtesy DTSM)
Skaters have been eagerly awaiting the return of what has become a popular holiday tradition after the COVID emergency shut down the rink in 2020 for the first time since it opened in 2007.
Then last year, a transformer blew and replacement parts were impossible to come by during a supply chain crisis ("ICE at Santa Monica Canceled Due to Electrical Meltdown," September 30, 2021).
"I can't wait to see people on the ice again enjoying themselves," said Andrew Thomas, the new executive director of Downtown Santa Monica, Inc. (DTSM), which mounts the holiday event. "Everyone has been ready."

Skaters aren't the only ones eagerly awaiting the return of the popular holiday attraction, Thomas said.
Downtown businesses have been gearing up for the visitors who flock to the rink not only to skate but to watch generations of skaters glide across the ice.
"A lot of people come just to hang out or visit the concessions," Thomas said. "Skaters can go eating or shopping, then return to the rink and continue skating."
Thomas is no stranger to the challenges that can crop up when you build an ice rink a few blocks from the ocean in balmy Southern California.
He was the agency's former operations manager in charge of the rink during its first three years before leaving to head the Westwood Village Improvement Association ("Andrew Thomas Returns to Head Downtown Santa Monica," July 11, 2022).

"The first year we had no idea if anyone would show up," Thomas said, noting that the rink attracts some 60,000 skaters each holiday season. "Now it's become a beloved community asset here in Santa Monica."
The rink will be open daily from noon to 10 p.m. through January 16. Skate rental and all day admission costs $20.
For more information click here or call the Ice team at 310.260.1199.