By Jorge Casuso
November 6, 2022 -- Santa Monica candidates mounted a last-ditch effort this weekend to get out the vote in a race that could tilt the balance of power on the City Council.
Armed with the latest digital media tools and unshackled from COVID restrictions, volunteers were knocking on doors as voters were blitzed with emails, texts and and social media posts -- many of them negative.
Issues aside, the 2022 race has been largely driven by a struggle by Santa Monicans' for Renters' Rights (SMRR) and the hotel workers union to regain power after losing control of the Council two years ago.
To do that, they must remove Councilmember Lana Negrete and fend off slow-growth activist Armen Melkonians on Tuesday.
"If they beat her (Negrete) Local 11 and SMRR say, 'We have power again,'" said Councilmember Phil Brock, who backs both candidates. "If she wins, they don't matter, and that's the absolute bottom line."
According to the only professional poll conducted for the Council race, Negrete, the lone incumbent in the race, held a comfortable lead six weeks ago, followed by Melkonians, who along with Negrete is backed by Santa Monicans for Change and the City's police are firefighters unions.
They were followed by Rent Board Commissioner Caroline Torosis and public policy adviser Jesse Zwick, who are backed by SMRR, Unite HERE Local 11 and the Democratic Club, the city's most influential liberal groups.
Recreation and Parks Commissioner Albin Gelicz, who is backed by the police union, and former League of Women Voters president Natalya Zernitskaya, who is backed by the Democratic Club, were in a dead heat for fourth place, according to the poll.
The poll also found that some 70 percent of residents are unhappy with the direction of the City, said Brock, who had access to the results.
"That is absurdly high," Brock said. "That was the single most dreadful thing in the poll. The amount of dissatisfaction is really disheartening."
But unlike the 2020 voter revolt that swept three incumbents out of office, Negrete appears to be the front runner after being targeted with the dirtiest Council campaign in recent Santa Monica history.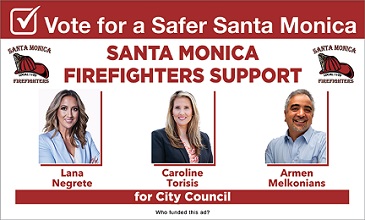 The campaigns mounted by Unite HERE Local 11, SMRR and the Democratic Club have fired off hit pieces and circulated unfounded allegations in an effort to unseat the Counncilmember appointed in June 2021.
But the campaign against Negrete may have backfired, said Sharon Gilpin a longtime political consultant who has run numerous local campaigns.
"Most people view voting as a positive act," Gilpin said, "If you keep hitting people with a negative ad it turns them off.
"Negative messaging is actually used to drive DOWN turnout," said Gilpin. "One needs to take care or the intention to slam one's opponent can flip and hurt one's candidate by depressing the vote."
Negrete and Melkonians could benefit from a targeted campaign to elect them, with some supporters asking voters to bullet vote for only one or both candidates.
Meanwhile Torosis and Zwick are among the four candidates who have the backing of the City's three top liberal groups, potentially diluting the vote.
Development, which has been one of the driving forces in local campaigns for more than two decades, may have taken a back seat this election.
That's because local jurisdictions have lost much of their control over zoning to the State, which is pushing for more development to address a widespread housing crisis.
Mayor Sue Himmelrich -- a staunch affordable housing advocate who opposes most other developments -- sees Tuesday's election as a litmus test of Santa Monica's liberal ideology.
"I ran (in 2014) because I wanted to change the insider game, and I think one group of insiders (backed by developers) will be changed with another group," she said.
"I think what's at stake is the City's progressive bent, the idea that we care about other people before we care about a fancy beach town," said Himmelrich, a leading member of SMRR and Torosis' top supporter.
Meanwhile, homelessness and crime, which are widely viewed as rising despite data indicating both are down in Santa Monica, are key issues that could bolster Negrete and Melkonians, who have made it the center of their campaigns.
"I think crime is the top issue nationwide," Gilpin said. "It leads the local news in LA, Philadelphia, Chicago, Seattle. It's a real issue."
Despite disagreements over candidates or policies, many voters would likely agree with Mayor Himmelrich's take on the local 2022 election.
"It has become a very insane battlefield that's gotten out of control," she said.