By Jorge Casuso
November 1, 2022 -- If a widely publicized "rent relief" program is any indication, City officials have been vastly overestimating the number of "rent-burdened" households in Santa Monica.
A total of 563 households applied for the City's "Rent Control Adjustment Relief" (RCAR) program, fewer than one-tenth of the 6,000 very low-income households City officials say are paying more than half of their income in rent.
The higher number -- based on dubious federal data -- is routinely quoted by Rent Control Board officials and is a key measure being used to sell Mayor Sue Himmelrich's transfer tax hike on the November 8 ballot.
Among other things, Measure GS would provide subsidies to thousands of struggling seniors and families, some of whom are "eating cat food at the end of the month" in order to pay their rent, Himmelrich said at a Council meeting in July.
It is unclear how many households will qualify for the rent relief program, but the number of applicants bolsters the contention of critics who have been insisting the City's estimate is unreliable.
Marc Verville, who is vice chair of the Santa Monica Audit Subcommittee, notes that the 6,000 figure is based on the U.S. Census Bureau's 2014-2018 American Community Survey (ACS), which he says is based on such small samples it is practically useless.
"The data is not supported by any other measure," Verville said. "There is no corroborating evidence in the City that points to the same conclusion."
Verville notes that Rent Board data show that 45 percent of controlled units have turned over since 2016 and rented to tenants who can show they devote no more than 30 percent of their income to rent.
"None of this is adding up," Verville said, "and they make no effort to verify whether this is happening in the City."
Himmelrich argues that the City's rent relief program does not accurately reflect an affordable housing crisis that, according to her ballot measure, is putting "many households one financial shock away from homelessness."

"Most people don't know how to apply for things," Himmelrich said, "and the amount of money is very small.
"It's important to give people the chance to get relief, but it's not an indication of how many people are struggling," she said.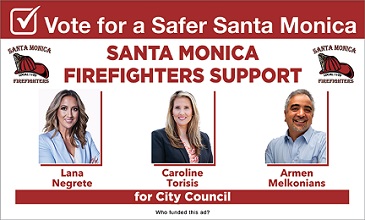 The program will distribute $750,000 to tenants who have received a Notice of Rent Increase implementing the 6 percent Rent Control General Adjustment that took effect September 1.
"We know the 6 percent increase is going to burden residents in rent-controlled apartments, and the City of Santa Monica is stepping in to provide support," City Manager David White said when the City began taking applications on August 22.
"We are committed to quickly deploying available resources and have mobilized a team to assist our community due to the unforeseen impacts of inflation," he said
The City launched an intensive campaign to drum up applicants, advertising the program in local media outlets and making sure those with limited access to a computer could apply in person.
The City also held a Community Clinic and made applications available in English, Spanish, Amharic and Farsi both in print and online.
More than a month after the program closed on September 19, applications are still being processed before subsidy checks can be issued to landlords.
"The team is individually contacting each of the nearly 600 applicants to confirm their details then working with landlords to process W9s -- it's extremely labor intensive," City spokesperson Constance Farrell said in an email.

Mathew Millen, a leader of Progressive Landlords of Santa Monica, thinks the City is not acting quickly enough.

"Let's assume they (the tenants) need the money," Millen said. "Why are they taking so long?
"They pass their programs, but they don't devote the money to get the help into people's pockets."