By Jorge Casuso
July 28, 2022 -- A plan by Santa Monicans for Renters' Rights (SMMR) to lower the annual rent increase at the ballot box was torpedoed at the final hour by Councilmember Lana Negrete early Wednesday morning.
With the Council poised to vote to place SMRR's proposal to decrease the annual rent adjustment from 6 to 3 percent on the November ballot, Negrete floated a radically different plan that had been leaked shortly before the meeting, causing consternation among tenant leaders.
Negrete's "Tenant Income Inequality Relief Plan" intends to spare lower income tenants a rent increase while imposing the Rent Board's mandated 6 percent increase, which is capped at $140, on higher income tenants.
"The greatest path forward is helping residents with the greatest need and those who are most vulnerable," Negrete said. Her proposed Charter amendment, she said, "prioritizes rent relief for those who are the lower rate tenants."
Negrete said her plan "addresses the shortcomings of the general annual adjustment methodology" the Rent Control Board has used for four decades based on a "one-size-fits-all" approach.
Instead of giving all tenants the same across-the-board increase, Negrete proposes basing the annual adjustment on a unit's Maximum Allowable Rent (MAR), taking the number of bedrooms into account.
The 13,741 tenants paying rents below the MAR (about half the tenants) would pay nothing, while those paying above the MAR would pay the 6 percent increase calculated by the Rent Board's formula, which is capped at 6 percent by the current City Charter (see chart below).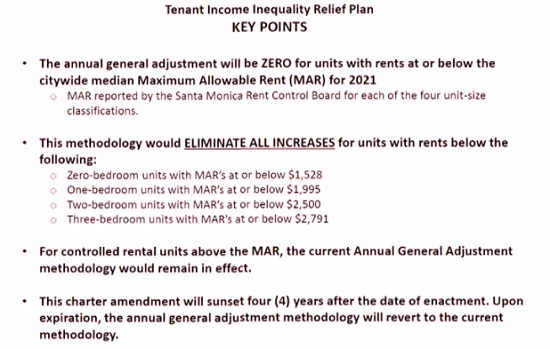 Councilmember Lana Negrete's rent decrease proposal (Courtesy City of Santa Monica)
The proposal -- floated at around 2 a.m. -- set off a political firestorm.
"This is deeply legally unsound and flawed," said Allison Regan, the Rent Board's General Counsel. "It is based on the faulty premise that rent levels directly correlate with income levels, which is untrue."
The proposal, Regan said, "could be struck down as unconstitutional," adding that it may not provide "a fair share of return for our property owners."
The three Councilmembers elected on a "Change" slate without SMMR's backing supported Negrete's proposal. They argued that the higher rents were likely paid by tenants who moved in more recently, after landlords were allowed to charge market rates under a state law that kicked in fully in 1999.
Most of those paying lower rents are tenants who had moved in during rent control's first two decades -- between 1979 and 1999 -- and are likely older and have lower incomes.
"We need to identify those in danger of being displaced," said Councilmember Oscar de la Torre. "The newer residents are probably in a better place than longer term residents in Santa Monica. Not everyone is impacted the same."
"We have a tremendous opportunity to provide a tremendous amount of relief, more than being proposed" under SMRR's measure, la Torre said. Negrete's proposal, he said, "falls in line with our values as a city in terms of equity."
Mayor Sue Himmelrich noted that rent control tenancy was never based on income and that it is "meant to be a tool of predictability" allowing tenants to rest assured their rents will not rise suddenly overnight.
Councilmember Gleam Davis argued that Negrete's proposal called for a "fundamental change" to long established procedures and was based on a premise that was flawed.
"It's the people paying the most rent that are more likely to be rent burdened," Davis said.
She also objected to Negrete's timing, saying she presented the proposal -- which should not have been kept confidential -- on the night the Council was scheduled to vote on the SMRR-backed proposal.
"I haven't had time to digest this," said Davis, the former co-chair of SMRR. "Doing this at 2 a.m. with four people in the room really shocks me to the core."
Negrete countered that the Council was pushed against the wall by a slow-acting Rent Board that should have seen the increase coming that was mandated by the City Charter ("Rent Board Approves Biggest Increase in Four Decades," June 16, 2022)..
"The Rent Control Board could have looked at this a lot sooner and come up with a plan that was more intricate," Negrete said. "Nothing was brought up, and we were put under a magnifying glass to come up with a solution."
A major point of contention was how Negrete's proposal -- which she sent to the City Manager in a confidential email -- was leaked.
"It is clear yourself and those members had that confidential information," Negete told Mayor Sue Himmelrich, whose husband is co-chair of SMRR.
"I was aware there was an amendment you were going go make," Himmelrich said.
"How were you made aware of that," Negrete asked.
"Because I got a phone call," the Mayor replied.
"When?" Negrete asked, but the question went unanswered.
City Attorney Doug Sloan and Deputy City Attorney Susan Cola took full responsibility for the leaked email, saying they sent all of the Rent Control related proposals to the board's General Counsel for legal analysis.
"I greatly apologize that I caused the angst," Cola said. "It was not intended to be a political maneuver."
"I take that responsibility," said Sloan. "It was not intended to be political."
But Oscar de la Torre took the opportunity during the marathon meeting that ended after 4:30 a.m. to take a stab at SMRR, which has controlled the Council and Rent Board for the better part of 40 years.
"We're having to right now fix a problem that was implemented by Councils and Rent Control Boards that were controlled by Santa Monicans for Renters' Rights," de la Torre said.
Near the tail end of a meeting that dragged on for ten and a half hours, the Council decided to postpone a vote to a special meeting that will take place next Friday at 6 p.m.
The Council will then take up final drafts of the two proposals and decide which one to place on the November 8 ballot.