By Jorge Casuso
July 26, 2022 -- (UPDATED) A historic Downtown Santa Monica apartment building that once housed the working class and retirees is the new home to a major investor in cutting-edge games companies seven years after it was removed from rent control.
Andreessen Horowitz (a16z), one of Silicon Valley's most established venture capital firms, will open a new office in the 25,000-square-foot century-old landmark building at 1305 2nd Street, City officials announced Tuesday.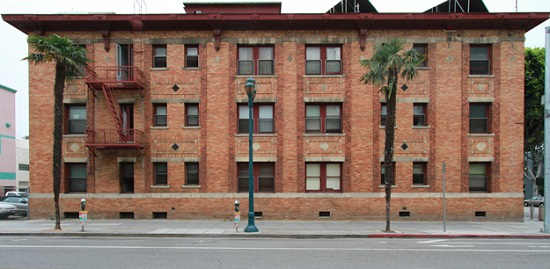 1305 2nd Street, Santa Monica (Photo courtesy of Santa Monica Conservancy)
"Santa Monica has long been a flourishing hub for innovative companies to put down roots and the added presence of a16z is yet another example of the City's thriving technology and innovation sector," said Jennifer Taylor, the City's Economic Development Manager.
The firm's use of a renovated historical building "is also an added sign of the revitalization happening in our downtown district and is a very exciting addition to the City's diversifying local economy," Taylor said.
The former 49-unit apartment building -- whose tenants included 15 disabled or senior individuals, eight of them on Section 8 -- was removed from the rental market in 2015 under the State's Ellis Act, according to Rent Board records.
The new a16z Santa Monica office is one of three (the others are in New York and Miami Beach) the company is opening as it shifts to a new operating model where employees "will work primarily virtually," City officials said.
Founded in Silicon Valley in 2009 by Marc Andreessen and Ben Horowitz, a16z will retain its existing offices in Menlo Park and San Francisco.
The new locations give the firm "an expanded physical presence to develop culture, help entrepreneurs, and build relationships globally."
Santa Monica and Miami Beach both have embraced the moniker "Silicon Beach" and have been attracting tech companies whose young workers are drawn by the the beach cities' lifestyles.
For more than three decades, Santa Monica has been a center for high-tech startups and creative industries that now include Hulu, Cornerstone on Demand, Lionsgate Entertainment, Oracle, Snap Inc., and Universal Music Group.
Those sectors currently account for 37 percent of the City's total employment with more than 29,000 workers and an average quarterly payroll of $1.95 billion, according to the City's Economic Development Department.
According to a16z's website, the firm recently introduced GAMES FUND ONE, "the firm's first fund dedicated to building the future of the games industry."
"Over the past decade, games have radically transformed from packaged entertainment to social network-like online services that scale like consumer technology companies," the website says.
"Today's games also drive innovation across the entire consumer ecosystem through new methods of engagement, retention, and monetization. We believe that games will play a pivotal role in defining how we socialize, play, and work over the next century."
The City worked with the landlord team of King's Arch and Wilshire Skyline, and brokers from Madison Partners, Ground Source and Douglas Elliman Commercial to convert the residential building to office use for the first time in its 108 year history, City officials said.
The 1914 building, which opened as The Hotel Hart and Apartments, was "re-imagined and meticulously restored" last year by KFA Architects.
"All building systems have been modernized with operable windows throughout, outdoor space with ocean views on every floor, exposed ceilings, a private roof deck and parking area," according to City officials.
The history of the three-story Renaissance Revival style brick building "mirrors that of other hotel/apartments in tourist areas around Southern California," according to the Santa Monica Conservancy.
In the 1920s and 30s, the building's residents included nurses, a dentist, a dancing teacher, a waitress, salesmen and widows, the Conservancy wrote in 2009.

By the early 1960s, it was home to "a sizeable contingent of widows and retirees" before becoming the Mar Vista Apartments, according to the conservancy.
Editor's note: This article was updated at 1:20 p.m. Wednesday to include the building's rent control background.