By Jorge Casuso
July 22, 2022 -- Councilmember Kristin McCowan, who rose from being a relative unknown to become a promising star on the local political scene, announced she will not seek re-election in November.
Appointed two years ago to fill the Council seat vacated by her high school friend Greg Morena, McCowan was quickly embraced by the local political establishment, running unopposed four months later to complete the rest of his term.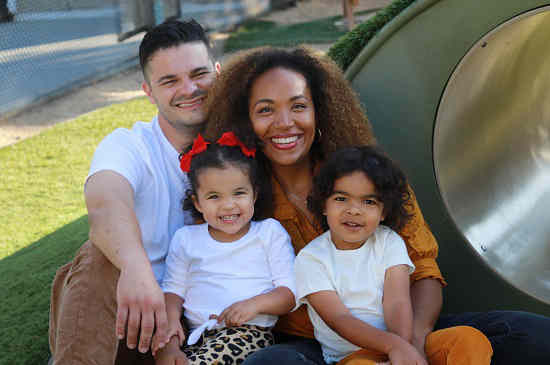 Kristin McCowan and family (Courtesy City of Santa Monica)
McCowan's departure leaves only one incumbent -- Lana Negrete -- in the the race for three open Council seats after Mayor Sue Himmelrich has long indicated she would not seek a third four-year term.
"Few decisions in my life have been this hard," McCowan wrote in a statement issued Wednesday. "But when my young children came to me over the Fourth of July holiday weekend and said they 'need their mommy,' I realized what a toll my service on City Council has taken on them.
"As heart wrenching as the decision is not to run -- as much as I love my community and am committed to making it the best place it can be -- I must put my children and family first. I cannot be a 50 percent Councilmember or a 50 percent parent. That is not who I am."
McCowan's appointment in July 2020 marked the first time a black woman sat on the Santa Monica City Council and the second time women comprised a majority ("Council Appoints Kristin McCowan to Fill Vacant Seat," July 14, 2020).
She joined the Council seven months after a voter revolt ousted three incumbents and replaced them with members of a Change slate focused on curbing development and fighting crime.
McCowan has served for most of the past two years as Mayor Pro Tem and has been closely allied with Mayor Sue Himmelrich, who has run into opposition from the three Change members.
Considered a moderate on the Council, McCowan was widely viewed as a frontrunner in the November 8 race and a shoo-in to once again win the backing of both Santa Monicans for Renters' Rights (SMRR) and Santa Monica Forward, the city's two most powerful political groups.
In a city where non-Santa Monica natives long controlled the Council, McCowan was part of a marked shift that saw the emergence of younger residents with longtime ties to the City. In her parting statement, she emphasized those ties.
"As a second-generation Santa Monican with a family history that dates back to 1938, there is no other city in the world to me like Santa Monica," she wrote.
"As a product of Santa Monica's exceptional public schools, programs, and services, I'm grateful for how this city inspired my commitment to public service and helped shape my progressive values.
"That is why it is with great sadness that I am announcing a very difficult decision I made with my family -- not to seek re-election to the City Council."
McCowan concluded by thanking the Council and vowing to "stay involved."
"I'd like to express my gratitude to the Mayor and my colleagues on the City Council, it has been a privilege to serve this community for the past 2 years and to be a voice for a more equitable, diverse, and inclusive Santa Monica," she wrote.
"I love Santa Monica. I love the people. I will stay involved."