By Jorge Casuso
July 21, 2022 -- "Today, we present humanity with a groundbreaking new view of the cosmos," NASA announced last week.
Next month, Santa Monica College's John Drescher Planetarium will share and discuss those first images beamed back by the James Webb Space Telescope (JWST), which is now a million miles from Earth.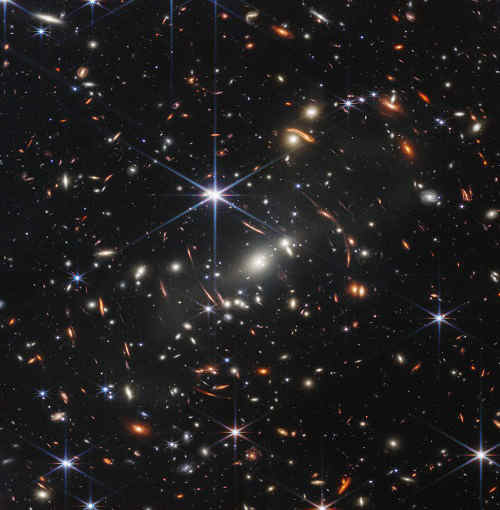 Early image captured by Webb Telescope (Courtesy of NASA, ESA, CSA, and STScI)
"The Big Reveal -- Webb's Early Images" -- a free, live virtual show featuring Senior Lecturer Jim Mahon and Associate Lecturer Sarah Vincent -- will take place Friday, August 5 and 12, at 8 p.m.

The full set of JWST's first full-color images and spectroscopic data, which according to NASA "uncover a collection of cosmic features elusive until now," were released July 12.
"These images, including the deepest infrared view of our universe that has ever been taken, show us how Webb will help to uncover the answers to questions we don't even yet know to ask," said NASA Administrator Bill Nelson.
The questions, he said, "will help us better understand our universe and humanity's place within it."
The James Webb Telescope, a partnership with ESA (European Space Agency) and CSA (Canadian Space Agency), is the biggest and most powerful space telescope ever built.
The Drescher Planetarium's presentations have been scheduled to "allow time for possible glitches during the early operational lifetime of this revolutionary instrument," event organizers said.
"If JWST falls victim to some type of failure, the show will conduct a post-mortem discussion of what happened."
On Thursday, NASA issued a report that shows the telescope suffered a "significant uncorrectable change" from a meteoroid hit in May but concluded the damage won't interfere with the telescope's ongoing mission.

The shows are preceded at 7 p.m. by a streamlined, virtual digest of the popular Night Sky Show that offers the latest news in astronomy and space exploration.
Currently, the planetarium is using the Zoom platform. To attend the shows, the Zoom software version 5.0 or higher must be installed on the viewer's computer. A free download is available at zoom.com.
"The shows include the chance to chat with the planetarium lecturers and ask questions related to astronomy and space exploration," planetarium officials said.
More information is available online at smc.edu/planetarium or by calling 310-434-3005. Shows are subject to change or cancellation without notice.