By Lookout Staff
February 3, 2022 -- Two local artists will use film to explore their "ancestral stories" during this spring's residency program at the Camera Obscura Art Lab, cultural officials announced Thursday.
Artists Andre Keichian and Zach Dorn will draw inspiration from the studio and the environment surrounding the historic building in Palisades Park that houses a camera obscura dating back to 1898.
Andre Keichian "Salt in the I" (Photos courtesy City of Santa Monica)
Keichian will use "salt water from the Pacific and seaweed gathered on Santa Monica's beaches" as a processing technique to develop a 16mm film.
Titled "Salt in the I," Keichian's project "grapples with his family's history of displacement dating back to the Armenian Genocide which marks the beginning of his family's migration."
The film "will play with the ghosts of his family history through the exploration of photographs, photo negatives, animated renderings, photographic manipulation, and historical research to create new narratives from trauma," cultural officials said.
"The work asks how we can manage and maintain the telling of our own stories after they have been erased or forgotten."
Filmmaker, writer and performing artist Zach Dorn "plans to use Santa Monica's Camera Obscura itself to develop stop motion animation and visual effects to tell ancestral stories of family members who have passed."
Dorn, who is primarily a live performance artist, turned to filmmaking during the coronavirus shutdown, officials said.
He spent two years in his 12'X12' bedroom "building miniature sets, animating stop-motion puppets, and editing a short film."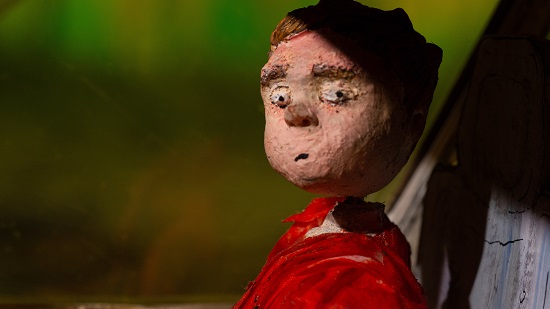 Zach Dorn "Eli"
The residency gives Dorn the chance to "breathe new life into his practice and his project 'Long Live Livia.'"
A camera obscura, the Latin term for "dark chamber," is a darkened room with a small hole or lens through which an exterior image can be projected.

The device -- which was used by Renaissance artists as an aid to drawing and painting -- led to the development of the photographic camera in the first half of the 19th century.
The camera obscura at the Senior Recreation Building in Palisade's Park was acquired in 1898 by Mayor Robert F. Jones, the nephew of the city's founder John Percival Jones, according to the Santa Monica Conservancy.
The mayor, who had "a passion for novelties and attractions, operated his device on the beach, where it became a big hit at 10 cents a view."
"In 1910, the city bought the Camera Obscura and moved it to Linda Vista Park (now Palisades Park) near its existing location at the foot of Broadway," according to the Conservancy.

"As a young city, Santa Monica needed to attract tourists and hoped that this popular novelty would draw visitors to the park.
"When the new Senior Recreation Center was built in 1955, the Camera Obscura moved to a room specifically built for it at the center and it remains there today."
For more information about the arts in Santa Monica visit santamonica.gov/arts