By Lookout Staff
August 12, 2022 -- Over the past decade, artist Matika Wilbur has traveled further than the moon in her RV, "The Big Girl;" on horseback and plane, boat and by foot to capture the faces of Native Americans.
During her journeys totaling more than 250,000 miles, Wilbur has visited the 562 federally recognized Tribes and other native communities, taking pictures and gathering oral histories that will be on exhibit at the Santa Monica College (SMC) Barrett Art Gallery.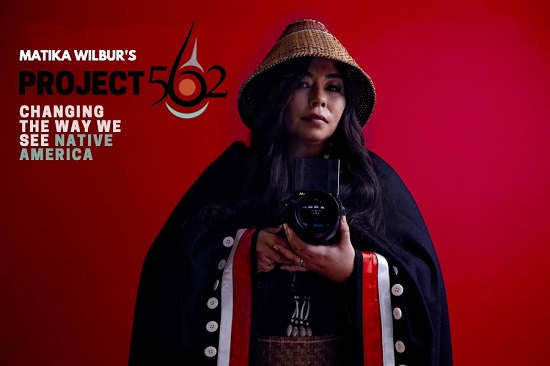 Matika Wilbur (Courtesy Santa Monica College)
Wilbur's "Project 562: Changing the Way We See Native America" -- on view from August 25 to May 15 -- is a "consciousness-shifting" exhibition that "accurately portrays the diversity and richness of contemporary Native America," the show's organizers said.

The exhibit "counteracts the relentlessly insipid, demeaning, clichéd representation of Indigenous peoples in mainstream media" with "an unprecedented repository of imagery and oral histories."
Wilbur, who is from the Tulalip and Swinomish Tribes, launched the project in 2012 when she was teaching at the Tribal school in her community.
"After experiencing the visceral and violent effects that one-dimensional racist Native imagery had on her students, she sold everything in her Seattle apartment and packed her life into her RV, the 'Big Girl,'" organizers said.

Her goal, Wilbur writes on her website, "is to unveil the true essence of contemporary Native issues, the beauty of Native culture, the magnitude of tradition, and expose her vitality."
As SMC's artist-in-residence for 2022-2023, Wilbur collaborated with Barrett Gallery Director Emily Silver and SMC students "to build her exhibition from the ground up," the exhibit's organizers said.
"Students were involved in building walls, printing and framing imagery, conducting deep dive research, and art handling.
"Together, Wilbur and the students curated images centered around authentic, poignant narratives, and crafted this groundbreaking show," organizers said.
Since 2015, Wilbur has delivered more than 300 keynote speeches at institutions hat include Harvard, Stanford, Google, the National Education Association and TED.
A National Geographic Explorer and recipient of the distinguished Leica Photo Award, Wilbur co-hosts the popular Native issues podcast "All My Relations," which invites guests to "explore the connections between land, creatural relatives, and one another."
Project 562 is Wilbur's fourth major creative project elevating Native American identity and culture. The Project 562 book will be published in spring 2023 by Ten Speed Press and Penguin Random House.
Wilbur will give a keynote speech at an opening reception slated for October 11, with details forthcoming.
The show is made possible with generous support from Mark and Freya Ivener, as well as from SMC Associated Students; SMC's Division of Equity, Pathways and Inclusion; SMC Associates; SMC Global Council; SMC Public Policy Institute, and SMC Foundation.
Dispatches from Project 562 can be found at project_562.com, at matikawilbur.com, project562.com, and at allmyrelationspodcast.com.
For more information on the SMC exhibition, as well as other upcoming events, visit smcbarrettgallery.com (the gallery is also on Instagram as @smcbarrettgallery).