By Jorge Casuso
April 15, 2022 -- Four suspects were arrested for grand theft in the early hours Friday after police found a stolen catalytic converter and a cache of burglary tools in their vehicle.
Police officers responded around 3 a.m. to a call reporting a catalytic converter theft on the 1500 block of Harvard Street, said Lt. Rudy Flores, the Police Department spokesman.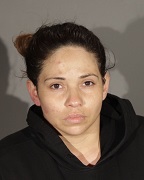 (From left) Jesse Gonzalez, Alexandra Garcia, Jesus Guerrero and Samantha Loaiza (Courtesy SMPD)
The caller said he was awakened "by the sounds of power tools and grinding" and "believed he witnessed a group of individuals steal a catalytic converter," Flores said.
The caller said the suspects were leaving the scene in a gray Tahoe SUV, according to Flores.
Officers located the vehicle, conducted a traffic stop and contacted the four occupants.
"During the course of their investigation, SMPD officers located numerous power saws, a vehicle jack, two-way radios, masks, and other miscellaneous tools, Flores said.
Officers also recovered the stolen catalytic converter "hidden in between two vehicles."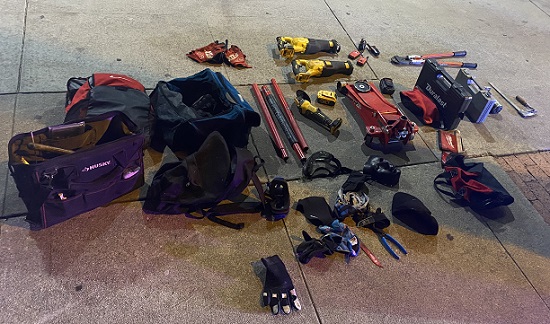 Tools found in suspects' vehicle
The Tahoe SUV was towed, and the burglary tools were booked into evidence, police said. The four suspects were arrested and booked in Santa Monica jail on grand theft and conspiracy charges.
They were identified as Jesus Guerrero, 33, from Pacoima, and Alexandra Garcia, 27, Jesse Gonzalez, 36, and Samantha Loaiza, 29, all from San Fernando.
Guerrero was also booked for driving with a suspended license, Gonzalez with possessing opiates and Loaiza with providing a false id to police.
Los Angeles County District Attorney George Gascón is sponsoring a Senate bill that would prohibit automobile dealers and retailers from selling a new vehicle without a Vehicle Identification Number (VIN) engraved or etched on the catalytic converter.
SB 986 also would require core recyclers to accept only traceable payment methods, such as a credit card, when they sell a used catalytic converter.
"We are working collaboratively with law enforcement to prosecute catalytic converter thefts, however these cases are notoriously difficult to solve and prosecute," Gascón said Tuesday.
Earlier this month, the bill was passed by the Senate Business, Professions, and Economic Development Committee and is scheduled to be heard in the Senate Public Safety Committee on April 26.
Catalytic converters -- used to turn hazardous exhaust into less harmful gases -- are valuable to scrap metal dealers because they contain precious metals, including platinum.
The current price of platinum is $996 an ounce, according to precious metal market sites. By comparison, silver is going for $25 an ounce, while gold is going for $1,975 an ounce.
Content in a catalytic converter varies widely depending on the vehicle model, but on average the amount of platinum is around 5 grams, according to ecotradegroup.com.
Anyone with additional information on the incident pertaining should call the Detective Bureau at 310-458-8451 or the Watch Commander (24 hours) at 310-458-8426.