By Lookout Staff
March 18, 2021 -- Santa Monica police are looking for a 37-year-old woman who was reported missing after last being seen leaving her Ocean Avenue apartment at dawn Monday.
Sherelle Hatcher -- a Baltimore native in town for work -- was captured by a surveillance camera leaving the building in the 1700 block of Ocean Avenue at around 6:30 a.m, police said.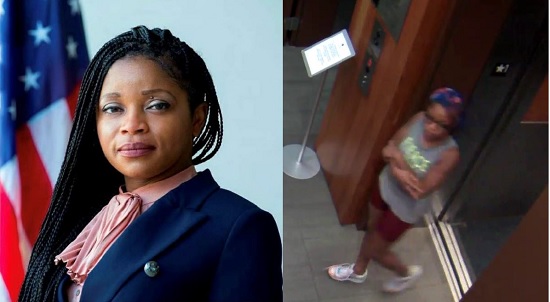 Sherelle Hatcher (Images courtesy SMPD)
Hatcher -- who was reported missing on Tuesday -- was wearing a blue headscarf with a pattern, a sleeveless gray t-shirt with the word "peace" in yellow letters, red biker shorts and gray sneakers.
"She was last seen by her apartment staff walking towards the Santa Mnica Beach," according to a flier put out by her family.
Hatcher is 5 foot 1 inches tall and weighs 120 pounds, according to police. She has black hair and brown eyes.
The family flyer lists her height at 5 feet 2 inches and her weight at 140 pounds.
According to the family, she was in Santa Monica for work.
"She attended Balitimore Polytechnic Institute and matriculated from Morgan State University," the family said. "She is a member of Alpha Kappa Alpha Sorority, Incorporated."
Anyone with any information as to the whereabouts of Sherelle Hatcher should call Det. Tavera at (310) 458-2256, Sergeant Williams at (310) 458-8475, or the Watch Commander (24 hours) at (310) 458-2249.