By Jorge Casuso
March 10, 2021 -- Santa Monica police arrested three suspects early Wednesday morning for stealing a catalytic converter, a crime that has spiked across the city and neighboring communities over the past year.
The suspects -- two Hispanic men and a white woman with prior theft-related arrests -- were arrested by officers who were responding to a potential grand theft in progress shortly after 2 a.m., police said.
"Dispatch relayed information regarding two individuals spotted underneath a parked truck near 23rd and Arizona Avenue," said Lt. Rudy Flores, the Police Department spokesman.
"Upon arrival, officers observed a white vehicle fleeing the location," Flores said.
Officers conducted a traffic stop of the vehicle that had three occupants and found "a Sawzall with additional cutting blades, pliers, a vehicle jack and a catalytic converter" inside the car.
"In addition to the items found within the vehicle, another cut catalytic converter was located under the truck where the vehicle occupants were originally spotted," Flores said.
Based on the items, police arrested the occupants, who were also identified by a witness.
Police later identified the victims as Eduardo Ayala,a 43-year-old Hispanic male, Daniel Hernandez, a 25-year-old Hispanic male and Tabatha Lukenzic, a 35-year-old White female.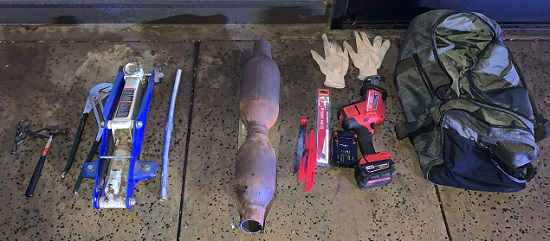 Catalytic converter and other evidence in theft
They were arrested for conspiracy to commit a crime and attempted grand theft. Ayala was also charged with receiving stolen property and possession of burglary tools.
Wednesday's arrests came three weeks after police arrested two men on February 17 for stealing a catalytic converter near 16th Street and Idaho Avenue at around 3:30 a.m.
Officers conducting a traffic stop found power tools, a car jack and three catalytic converters inside the vehicle, which had stolen license plates.
The suspects -- Filiberto Sanchez, 33, from Huntington Park and Juan Manuel Sanchez, 36, from Los Angeles -- were booked for grand theft, receiving stolen property, possession of burglary tools and conspiracy.
The theft of catalytic converters accounted for a dramatic spike in auto parts theft in Santa Monica last year ("Crime Dips During COVID-19 Shutdown, Calls for Service Plummet," February 19, 2021).
Reported incidents of auto theft surged from 108 in 2019 to 402 last year, a 272 percent increase. Of those about 57 percent involved thefts of catalytic converters.
"Increase in catalytic converter thefts is something other neighboring agencies have struggled with this year as well," police officials said.

Catalytic converters -- which are attached to the exhaust pipe to reduce the toxicity of emissions -- are valuable to scrap metal dealers, police said.
They contain precious metals, including rhodium, platinum and palladium and do not have unique serial numbers or identifiable markings, making it difficult for law enforcement officers to return the stolen converters to their owners.
Etching a converter with a license plate number, however, may deter theft, police said.
"The presence of license plate numbers on catalytic converters can provide police with the information needed to identify stolen property, contact victims, and apprehend/prosecute criminals," police said.
On Wednesday night, the Santa Monica Police Department partnered with Firestone Complete Auto Care to host a free catalytic converter etching event.
The event was sold out, but similar events are planned in the near future, Flores said.
Anyone with additional information related to Wednesday's theft should call the Criminal Investigations Division (CID) at 310-458-8451 or the Watch Commander's office at 310-458-2249.