By Lookout Staff
August 3, 2021 -- The City of Santa Monica is taking applications for 39 one-bedroom units with private balconies in a senior building that will soon complete construction near Downtown.
Magnolia Villas Senior Housing Development, 1445 and 1453 10th Street, received an $11.4 million investment from the City and will provide affordable apartments across a mix of low-income levels.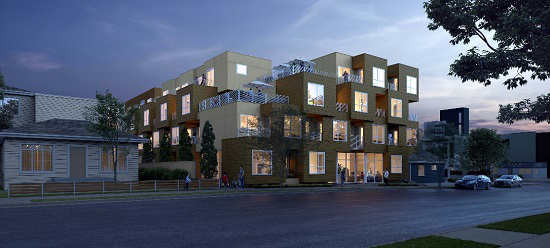 Magnolia Villas (Rendering courtesy City of Santa Monica)
The new building features more than 2,000 square feet of courtyard open space, a community garden, programming offices and community room and on-site laundry, City officials said.
It is close to medical offices, the Santa Monica Pier, Santa Monica State Beach and the Third Street Promenade, officials said.

Magnolia Villas "will soon provide essential housing to Santa Monicans in a setting where they can age in place," said Community Services Director Andy Agle.
"We are committed to supporting the creation of affordable housing to keep our long-term residents in the community they love. We encourage all low-income seniors to apply."
To be eligible, applicants must be 62 years of age or older with an annual income between $16,885 and $49,680 for a one-person household, $16,885 and $56,760 for a two-person household, and $16,885 and $63,840 for a three-person household.
Applicants who live or work in Santa Monica will receive priority on the waiting list, City officials said.
There is no minimum income for households with a Section 8 housing voucher. Voucher holders will need to apply via the Below Market Housing program.
Applications are online only and will remain open and ongoing. For more information and to apply online, visit santamonica.gov/housing-magnoliavillas.
Those who require assistance applying due to a disability can call 310-458-8740 and leave a message and a City of Santa Monica staff member will get back to them.