By Jorge Casuso
January 29, 2020 -- The pedestrian struck by a Metro train early Sunday morning marked the ninth public suicide in Santa Monica over the past two years, the Los Angeles Coroner has determined.
The victim was identified by the corner as Derrel Burnett Jr., a 57-year-old white male who police believe was homeless.
Burnett walked in front of the oncoming westbound train at around 6 a.m. Sunday near the intersection of Lincoln Boulevard and Colorado Avenue, according to police.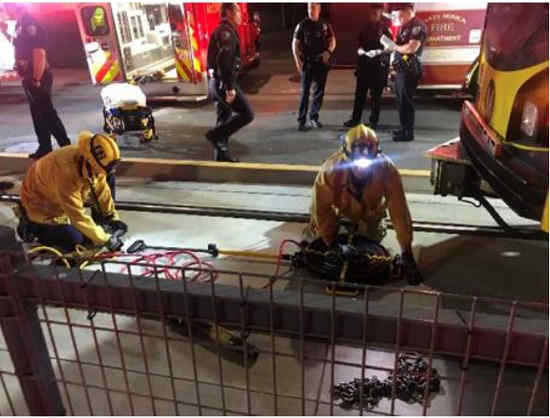 Firefighters at site of Sunday's train collision (Courtesy SMFD)
Firefighters responding to the scene found the victim trapped under the wheels of the front section of a three-car train, said Captain Eric Himler, the Fire Department spokesperson.
"The patient was evaluated, and it was determined he was breathing and had a pulse but had sustained serious life-threatening injuries," Himler said.
Immediately, Fire Department paramedics began Advanced Life Support as a Fire Truck and an Urban Search and Rescue team set up equipment to lift the train in order to to free the patient.
"Working around and lifting a train is a complex and dangerous operation," Himler said.
The pedestrian was extricated from underneath the train and transported to UCLA Westwood.

"Members accomplished the task safely and quickly, delivering the patient to the trauma center in less than an hour after dispatch," Himler said.
Himler succumbed to his injuries at the hospital. The cause of death determined by the corner was "traumatic injuries."
Sunday's collision marked the third fatality caused by a Metro train in Santa Monica since service reached the beach city in May 2016 ("Fatal Collision Sunday Marks Third Pedestrian Killed by Expo Train," January 26, 2020).
It also marked the ninth public suicide committed in Santa Monica since February 2018 ("Suicide Under Pier Marks Eighth in Less than 2 Years," November 21, 2019).
Of the eight previous suicides, three took their lives at the pier and four leaped from the top of Downtown Parking structures.
In the other case, a John Adams Middle School (JAMS) parent took his life with a firearm in front of the school ("Parent of Santa Monica Student Commits Suicide in Front of School," June 25, 2018).