By Lookout Staff
September 26, 2019 -- The Pico Youth and Family Center (PYFC) on Saturday will recognize the lead plaintiff in a voting rights lawsuit against the City and a university group that helps formerly incarcerated students succeed.
Award recipients Maria Loya and Underground Scholars of UCLA -- who will be recognized at the 11th Annual Hope & Unity Awards Gala -- "embody PYFC's 20 years of Social Justice advocacy in Santa Monica," event organizers said.
The annual gala -- which takes place from 6 to 10 p.m. at the Fairmont Miramar Hotel -- features a silent auction, dinner, the community leadership awards and live performances, organizers said.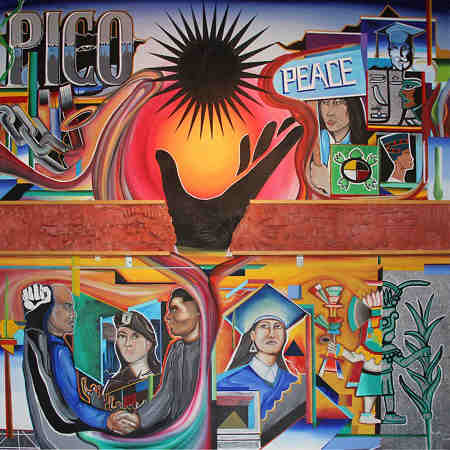 Pico Youth and Family Center Mural (Courtesy PYFC)
The event also features "inspiring testimony from the youth who benefit from PYFC's unique and innovative programming," center officials said.
Loya will be recognized for her "historic legal victory" against the City of Santa Monica in a voting rights lawsuit that could result in district-based elections as early as next year, officials said.
Loya and her legal team "confronted the local City establishment and one of the country's most expensive law firms" and won a ruling that found the City's at-large election system intentionally discriminates against Latinos.
"District elections will make it less expensive to run for a seat on our City Council and will ensure every neighborhood is represented, making our democracy more accessible and inclusive," Loya said.
The City appealed the ruling and the case is before the California Court of Appeal ("City Asks Appeals Court To Expedite Voting Rights Ruling," April 30, 2019).
Underground Scholars (US) of UCLA provides various services and advocacy to help "formerly incarcerated and system impacted students succeed academically and graduate," center officials said.
"For us, it's about undoing the school-to-prison pipeline," said US Co-chair Javier Rodriguez. "We are trying to create a prison-to-school pipeline. It's about creating that pathway."
The "school-to-prison pipeline," Rodriguez said, describes "the systematic way many youth from low-income minority communities tend to be funneled from public schools into the criminal justice system."
The PYFC has disrupted that pipeline in Santa Monica, said US co-founder Rodrigo Vazquez.
"Where most youth centers cut off services once you turn 18, PYFC keeps the doors open for us to realize our full potential as students," Vazquez said.
The PYFC is "a unique youth center that provides culturally relevant programming to underserved youth and their families," center officials said.
The center opened the city's first public recording studio and offers the "ground-breaking" Social Justice & Mindfulness Summer Camp for kids, officials said.
Saturday's gala raises funds to support underserved youth and to "keep PYFC's mission and vision alive," center officials said.
To learn more about PYFC and the Gala visit www.picoyouth.org