By Lookout Staff
September 20, 2018 -- Santa Monica College on Friday will hold a groundbreaking ceremony for a new campus in Malibu that will provide a permanent location to offer college classes.
The new facility will also include a wing for a Los Angeles County Sheriff's substation to house county law enforcement personnel ("Coastal Commission OKs Santa Monica College's Malibu Campus Plans," June 13, 2016).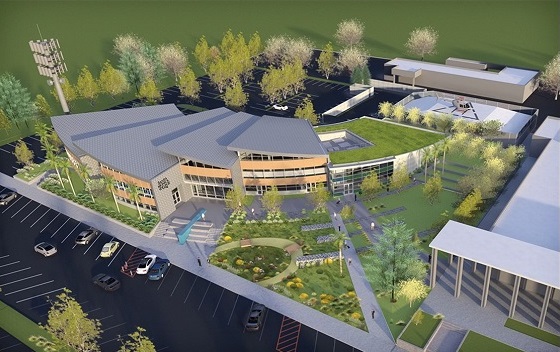 Santa Monica Collge Malibu Campus rendering (Courtesy QDG Architecture)
The groundbreaking ceremony takes place from 11 a.m. to 12:30 p.m. at 23525 Civic Center Way in Malibu and will include comments from SMC Superintendent/President Dr. Kathryn E. Jeffery and LA County Supervisor Sheila Kuehl, whose district includes Malibu.
The three-acre campus located in Malibu's Civic Center area will include a two-story educational building with dedicated labs for science and art, a multipurpose physical activity space, a 100-seat lecture hall with raked seating, a computer lab and two general education classrooms.

The 20,000-square-foot will serve as many as 210 students and 12 faculty members, college officials said.
A one-story wing of the structure will house the Los Angeles County Sheriff's substation, with a multi-purpose room doubling as an Emergency Operations Center.
The campus also will include space for an interpretive center to support Malibu's unique culture and history.
A Malibu campus was proposed as part of an SMC District (which includes Santa Monica and Malibu) bond measure that went before voters and was approved in November 2004.
Designed by QDG Architecture, the campus is expected to open in 2022.