By Jorge Casuso
September 17, 2018 -- Santa Monica, the birthplace of an electric scooter craze that is taking hold across the nation, launched a pilot program on Monday aimed at controlling the vehicles' run-away success.
The program limits the number of electric scooters to 2,000 and electric bikes to 1,000 and restricts where they can be used ("Santa Monica Launches Pilot Program for Electric Scooters, Bicycles," June 13, 2018).
The City chose four companies to operate during the 16-month program ("Bird, Lime Named Among Companies Allowed to Rent E-Scooters in Santa Monica Pilot Program," August 30, 2018).
Bird and Lime will be allowed an initial fleet of 750 e-scooters each, while Lyft and Jump will each be allowed 250 scooters.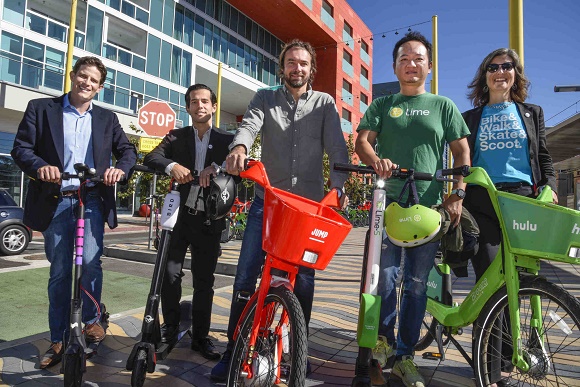 Representatives of Lyft, Bird, Jump, Lime and Breeze with their vehicles (Photos by Amy Gaskin courtesy City of Santa Monica)
Lyft and Jump also were chosen to operate the e-bike pilot program with 500 bikes each.
"With this 16-month pilot," Santa Monica Mayor Ted Winterer said during a press conference Monday, "the city of Santa Monica will work closely with these four operators to create a safe, manageable, sustainable way to incorporate e-scooters and e-bikes into our community."

The pilot program builds on the City's Breeze Bike Share system and expands its "commitment to be a truly multi-modal community that offers residents and visitors a variety of sustainable and convenient transportation options," City officials said in a statement.
Bird -- which launched the scooter craze that has reached more than a dozen cities -- said the pilot program "illustrates just how important (City officials) view the fight against urban congestion and carbon emissions."
"Santa Monica is Bird's hometown and the birthplace of the e-scooter movement, a natural evolution given the city's storied past of encouraging and driving climate-friendly initiatives," said Ryan Fujiu, the company's head of Product and Compliance.
Since the first Bird scooters hit Santa Monica streets last September, riders have logged in more than 1.7 million miles, Fujui said.
That has "prevented more than 1.5 million pounds of carbon emissions from entering our air that would have otherwise been produced had these trips been taken by car," he said.
But many Santa Monica residents have criticized the presence of the scooters, which they say are posing safety hazards and blocking sidewalks and public spaces.
Harriett Epstein, a vocal critic of the company, said it was a mistake to choose Bird, which was picked by the City planning director for its experience after being given the lowest scores by an advisory committee composed of City staff.
"That 'experience' has negatively impacted residents' way of life," Epstein said on the eve of the Monday's program launch. "Why is the city rewarding them in the pilot program?"
She asked the company to provide statistics "showing that local automobile traffic has decreased since your devices were introduced."
Epstein noted that Bird and Lime had been banned from operating in San Francisco, Beverly Hills, Newport Beach and other cities.