By Niki Cervantes
Staff Writer
May 11, 2018 -- The new owners of Santa Monica's Depression-era Associated Telephone Company building downtown are seeking landmark status for the structure, a six-story Art Deco reminder of a century when the telephone was high-tech.
Now office space, the 29,900-square-foot building at 1314 7th Street is a rare example in Santa Monica of the popular Moderne style used by Public Works Administration as part of the effort to recover from the Great Depression.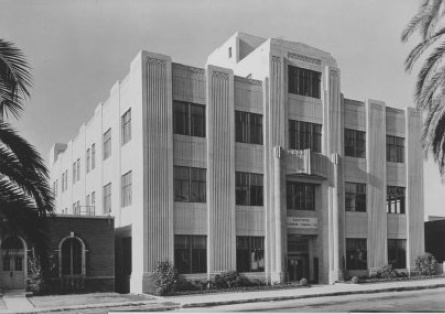 Associated Telephone Building, 1937 (Courtesy Santa Monica History Museum)
Divco West, which bought the building in 2017, is scheduled to make its case to the City's Landmark Commission on Monday. The meeting starts at 7 p.m. in City Council Chambers at 1685 Main Street.
Staff is recommending the designation.
"The telephone industry was a key component of the City's economic development beginning in the 19th century," a staff report for the commission says.

"The subject building is significant for its association with Santa Monica's telephone industry, network of telephone infrastructure, and was integral to the City's telecommunications system," the report said.
"Accordingly, the building symbolizes elements of the economic history of the City."
Built in 1937 for the newly-consolidated Associated Telephone Company, the building would serve as the headquarters and principal telephone exchange facilities for the Bay District between 1937 and 1956, with the toll and long-distance services located at nearby 625 Arizona Avenue.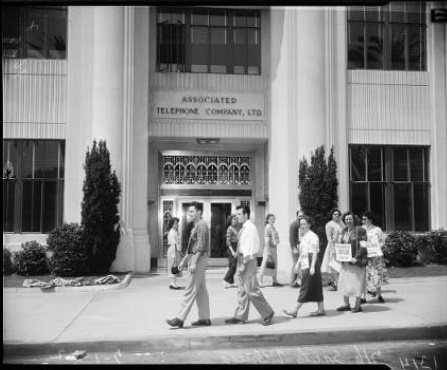 Picketers outside Associated Telephone Company Building, 1952 (Courtesy USC Digital Library)
In 1985, General Telephone moved its corporate headquarters from Santa Monica -- where it was then the city's largest private employer -- to Thousand Oaks in Ventura County.
Rectangular and constructed with reinforced concrete, the building consists of a "symmetrical composition with the primary (east) elevation divided into five bays of broad, fluted piers that continue uninterrupted to the flat roofline ornamented with cast friezes in a chevron pattern.
"The flat roof includes a rectangular penthouse surrounded by a rooftop terrace at the southwest corner of the building," the report said.
The building has undergone numerous alterations since its original construction, including the 2013 renovation for commercial/restaurant use on the ground floor and creative offices on upper floors.