By Niki Cervantes
Staff Writer
May 10, 2018 -- The Santa Monica City Council on Tuesday approved $38 million in bonds to finance construction of a new three-story fire station that more than doubles the size of the existing Downtown facility, which dates back the mid-1950s.
The resolutions adopted authorize the issuance of the bonds, which reach final maturity in 2048, a report to the council said. The "maximum true interest" cost is 5 percent.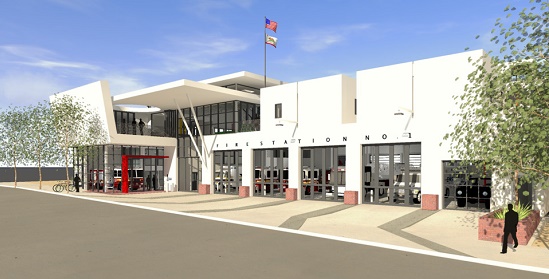 Rendering of Proposed Downtown Santa Monica (Courtesy Rob Wellington Quigley, FAIA)
In all, the fire station project is budgeted for $41.6 million, including a $2.2 million fire training facility in City Yards.
With a completion date of early 2020, the new fire station at 1337 7th Street would replace the existing facility at 1444 7th Street ("Santa Monica Council Approves Construction Contract for New Fire Station Downtown," March 28, 2018).
At 26,720 square feet, the new station is being characterized as state of the art.
Its top floor will feature dorms for up to 20 firefighters, a kitchen, fitness area, men's and women's restrooms and a community room.
Passersby will see into the station house through four retractable glass bay doors on the first floor, offering a look at the fire engines and crews inside.
The project is trying to attain a LEED Silver certification.
The existing 11,000-square-foot Fire Station No. 1 is to remain operational throughout construction.
It is home to Engine 1, Engine 6, a 100-foot ladder truck and crew, an air/light/rescue unit and a command vehicle with a battalion chief.

The plan includes digging under a nearby commercial surface parking lot to create 40 additional parking spaces.
A study a decade ago found the station was feeling its age, and contending with a downtown population that had already grown significantly and is expected to continue to do so.
Seismic research also showed the building could buckle in an earthquake.
Officials say modernization is needed for Station 1 to keep up with the demands of its service area downtown and in the northwestern portion of Santa Monica.