By Lookout Staff
May 8, 2018 -- The Los Angeles County Sheriff's Department is trying to find a transient woman who frequents the Santa Monica area after she lost touch with her family.
Whitney Huima, 31, last contacted her family on March 10 and has not been heard from since, according to officers in the Sheriff's Homicide Bureau, Missing Persons Unit.
"She normally talks to her family, and they haven't heard from her," said Sgt. Nava, who is working on the case.
"She is a transient in the Santa Monica and Venice areas, but might be in Van Nuys," officials said.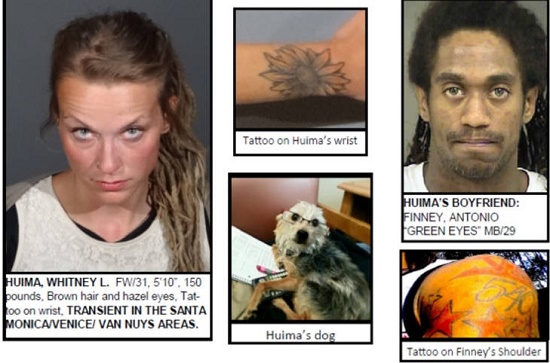 Photos courtesy LA County Sheriff's Department
Huima, who is white, is 5 feet 10 inches tall and 150 pounds with brown hair and hazel eyes. She has a flower tattoo on her right wrist.
Huima could be with her 29-year-old boyfriend Antonio Finney, who is black with green eyes and has black or brown hair, officials said.
Huima has a dog that may be with her, officials said.
Sheriff officials are asking "anyone with information that could help reunite the woman with her worried family to call the Missing Persons Unit at (323) 890-5500 and speak with Detective Abraham or Sgt. Nava.
Anonymous tips can be submitted through Crime Stoppers by calling (800) 222-TIPS.