By Jorge Casuso
May 4, 2015 -- You don't have to look far to find artists working well into their later years. John Baldessari, who created many of his major works in Santa Monica, is now in his 80s and going strong.
That could serve as inspiration for students at Santa Monica College's program for older adults who will showcase their latest works in an exhibit starting next Thursday.
The salon-style group exhibition kicks off with Thursday's opening reception from 5 to 6:30 p.m. at the SMC Emeritus College Art Gallery, 1227 Second Street.
"Monica" – acrylic painting by Cynthia Cottam
The number of seniors whose works will be exhibited at the school's Downtown Santa Monica campus has been soaring, school officials said.
"The Emeritus Student Art Exhibition has grown in popularity to the degree that there were literally too many names to print on the exhibition postcard this year," said Emeritus Gallery director Jesse Benson.
"Expect ambitious, professional-level contributions from this brilliant student body," Benson said.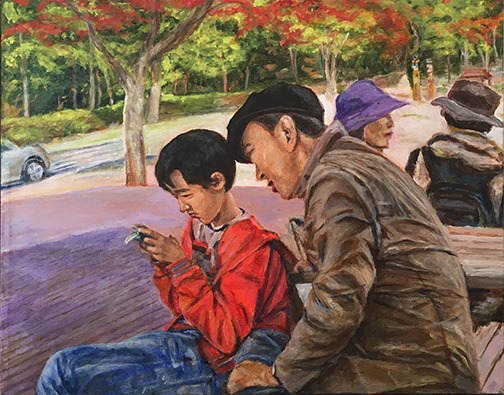 "Quality Time" – acrylic painting by Young-Heh Keh
The works exhibited include drawings, paintings, sculptures, collages and multimedia works, school officials said.
Compared to a Milton Quon, a longtime student at Emeritus, most of the school's budding artists are veritable youngsters.

Quon, who worked as an animator on Walt Disney's the legendary 1940 film "Fantasia," was the subject of an exhibit at the SMC Emeritus College Gallery last year.
He was 104.("Santa Monica Emeritus College Gallery to Display Works by Legendary Chinese-American Artist," September 26, 2017).
"These artists put a lot of heart, passion, and creativity into their work," said Scott Silverman, the school's associate dean.
"It is a true delight for our artists and the rest of the Emeritus community to appreciate this art together each year."
Founded by SMC in 1975, the Emeritus program offers more than 120 noncredit adult education classes and special programs that serve more than 3,000 students each year.
For more information visit www.smc.edu/emeritus or call (310) 434-4306.