By Jorge Casuso
May 4, 2018 -- American author Dorothy Parker once wrote, "The first thing I do in the morning is brush my teeth and sharpen my tongue."
This month, LA's Impro Theatre will attempt to emulate Parker's sharp wit on the spot when it performs "Dorothy Parker UnScripted" May 18 to 20 at the The Edye at The Broad Stage in Santa Monica.
The show uses audience suggestions to recreate "an impressionistic night of Dorothy-style scenes and observation, reminiscent of the Roaring 20's," organizers said.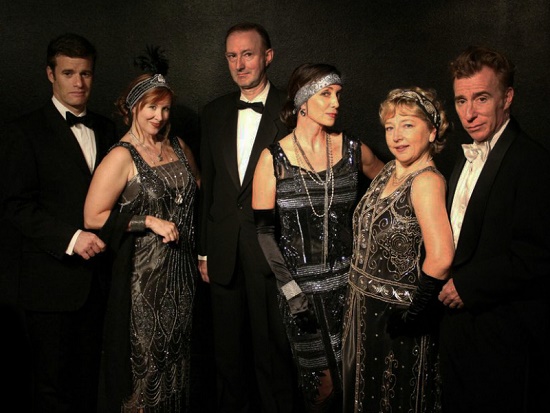 Mike Rock, Kelly Holden Bashar, Paul Rogan, Jo McGinley, Lisa Fredrickson and Stephen Kearin in Dorothy Parker UnScripted at Impro Theatre. (Courtesy of Impro Theatre)
Like the Irish wit Oscar Wilde before her, Parker wrote stories, plays, poems and epigrams that lampooned the pretensions of upper class society using her cynical eye for the telling detail.
"When people think of Dorothy they think of her sharp wit," said Jo McGinley, the show's co-director. "But what struck me about her writing when I first read 'Here We Are' was how little has changed in our interpersonal relationships from when she was writing 100 years ago.
"She is at once hilariously funny and then very moving," McGinley said. "Her stories have it all. She had deep compassion for those stuck in relationships that were not working. She knew what it was like to be an outsider."
Impro, which made its name tackling classic writers such as Shakespeare, Chekhov and Austen, won accolades for its efforts to introduce the work of a writer whose popularity has waned since her work appeared oon film and in magazines.
"Now that Impro has run through many of the most recognizable writers and genres, they must turn to slightly lesser known entities to inspire new work," reviewer Maureen Lee Lenker wrote in "Stage Raw" last year.
"If so, 'Dorothy Parker UnScripted' is a fabulous start, and it cannot be said that the evening isn't as delectable as one of Parker's favorite gin martinis," she wrote. "Some of the most delightful scenes arise when characters engage in awkward dances of courtship onstage while other actors deliver their inner monologues into microphones offstage."
As in all Impro Theatre's shows, the characters and story structure in "Dorothy Parker UnScripted" changes with each performance, event organizers said.
"Each performance offers an exploration into the process of spontaneous creation while encouraging a profound level of engagement between performers and audience, who are all united in discovering what happens in the moment on that particular night."
Last year, Impro Theatre's "Jane Austen UnScripted" at the Broad received two Ovation Award nominations for "Best Presented Production."

The company was also nominated for "Best Featured Actress in a Musical" for Michele Spears' performance in "Sondheim UnScripted."
The next Impro Theatre will an present unscripted version of Tennessee Williams on June 15 to 17.
Tickets: Start at $45 and all seats are general admission. For ticket information visit www.thebroadstage.org or call 310.434.3200.
Mike Rock, Kelly Holden Bashar, Paul Rogan, Jo McGinley, Lisa Fredrickson and Stephen Kearin in Dorothy Parker UnScripted at Impro Theatre. (Courtesy of Impro Theatre)