By Jorge Casuso
May 2, 2018 -- The race to the Moon is back on, and it's not only NASA that's interested in getting there again.
The public, and private, endeavors to return to Earth's only permanent natural satellite is the subject of a lecture this month at the Santa Monica College John Drescher Planetarium.
But first, on Friday May 4 and 11, stargazers can prepare to view the summer sky when the planetarium presents "Summer Star Party Planner," a practical guide to gatherings of amateur astronomers known as "star parties."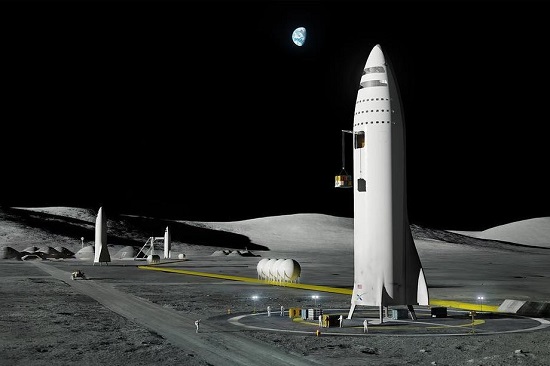 Rendering of SpaceX rocket on the moon (Courtesy SpaceX)
The presentations offer tips on when and where to go, "from local urban and suburban locations to high mountains and deserts — and what to bring to be a welcome star party visitor and participant," event organizers said.
There also will be a chance to sign up for information on joining a group of amateur astronomers at a dark site in July.
On Friday, May 18, guest lecturer Shelley Bonus will present "NASA, ESA, and Private Investors Back to the Moon? Why, and What about Mars?"
"With NASA human spaceflight pivoting to a lunar return prior to heading for Mars, speculation is that commercial companies will already be operating on or around the Moon by the time NASA gets there with crewed Orion spacecraft," planetarium officials said.
While the Soviet Union's Luna program sent the first unmanned spacecraft to the Moon in 1959, it was NASA's Apollo program that sent the first man there, making six manned lunar landings between 1969 and 1972.
Nearly fifty years later, "the Moon is once more the near-term target for NASA, the European Space Agency, and private groups," planetarium officials said.
Billionaires Elon Musk, Jeff Bezos and Richard Branson are all part of the first wave of private human spaceflight.
Last September, Musk, who had been focusing his sights on Mars, hinted he might be interested in reaching the Moon by posting a rendering of his SpaceX interplanetary rocket on the lunar surface.
The image, which was captioned "Moon Base Alpha" created a buzz on websites that follow the billionaire's every move.
The John Drescher Planetarium, which features a Digistar projection system, is located near the elevators on the second floor of Drescher Hall, 1900 Pico Boulevard.
Tickets are available at the door and cost $11 ($9 seniors and children) for the evening's scheduled "double bill," or $6 ($5 seniors age 60 and older and children age 12 and under) for a single show or telescope-viewing session.
For more information call (310) 434-3005 or visit www.smc.edu/planetarium. All shows are subject to change or cancellation without notice.