By Lookout Staff
March 22, 2018 -- The work of an 18th Century French comet hunter and a view of one of the Moon's most dramatic craters will be featured next month at the Santa Monica College John Drescher Planetarium.
The April offerings kick off April 6 with a look at the work of Charles Messier, whose "nuisance list of fuzzy, non-moving, comet-like objects led to the development of one of the best-known astronomical catalogs of the northern sky," event organizers said.

As part of the program, the planetarium director will report on his efforts to view all 110 objects on the list in a single session during a dusk-to-dawn "Messier Marathon" March 17, a feat possible only in March and April.
On April 20, the planetarium will hold a "special observing event" to view the Moon and its dramatically lit crater Theophilus and the famous Double Star -- Mizar and Alcor-- in the middle of the handle of the Big Dipper.
The viewing through a variety of telescopes will be guided by the planetarium's director.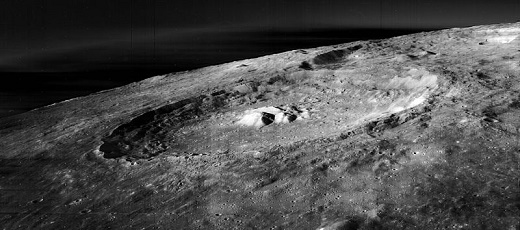 Theophilus crater (Courtesy of NASA)
The show April 27 will preview the Mars INSIGHT mission scheduled to launch May 5 and land on the Red Planet on November 26.
The mission "carries a suite of instruments designed to probe the interior structure and heat flow characteristics of Mars, organizers said.
The John Drescher Planetarium, which features a Digistar projection system, is located near the elevators on the second floor of Drescher Hall, 1900 Pico Boulevard.
Tickets are available at the door and cost $11 ($9 seniors and children) for the evening's scheduled "double bill," or $6 ($5 seniors age 60 and older and children age 12 and under) for a single show or telescope-viewing session.
For more information call (310) 434-3005 or visit www.smc.edu/planetarium. All shows are subject to change or cancellation without notice.