By Jorge Casuso
March 15, 2018 -- Thousands of students at Santa Monica and Malibu public schools walked out of classes on Wednesday as part of a District-sanctioned demonstration to show solidarity with students at a Florida high school where a mass shooting claimed 17 lives one month earlier.
The students held signs and chanted slogans in scenes that were repeated at schools nationwide to mark the one-month anniversary of the massacre at Douglas Stoneman High School in Parkland, Florida February 14.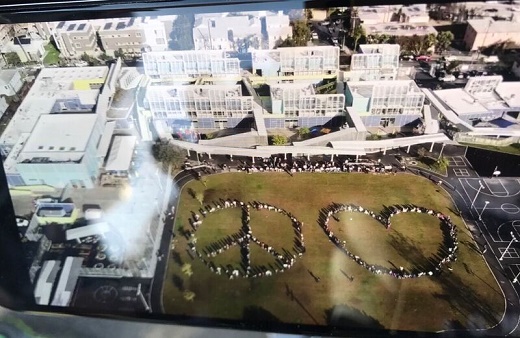 Edison students form peace sign (Courtesy SMMUSD)
At Webster Elementary students formed giant peace and heart signs on the school's playing field, at John Adams Middle School they gathered on the lawn outside the auditorium and shared the biographies of the victims, while at Lincoln Middle School students wore orange to demonstrate their support.
The largest demonstration took place at Santa Monica High School, where more than 1,000 students gathered on the football field chanting and holding signs.
The manifestations calling for peace and safety -- and in some cases gun control -- took place on campuses across the district, said Superintendent Ben Drati.
"I thank students for demonstrating in powerful and peaceful ways," Drati said. "The student-led activities today demonstrated their determination, passion and ability to take appropriate action to affect change in a positive way, locally, regionally and nationally."
Drati also thanked the faculty, staff, parents and community partners "who supported this national expression of free speech, school safety, peace and kindness."
At each of the District's secondary schools, "alternatives were provided for students who did not want to participate in the walk-out that included facilitated discussions of protest as a form of community expression," Drati said.
Last month District officials gave their blessings to the classroom walkouts and on March 1, the School Board approved a resolution "in support of common sense gun laws" ("Santa Monica-Malibu Public School Leaders Give Blessing to Student Walkouts," February 26, 2018).
The nationwide protests were organized by Women's March Youth EMPOWER, the organization that sponsored the large-scale protests the day after Donald Trump's inauguration and a year afterwards.

Organizers asked students and allies to walk out of class at 10 a.m. for 17 minutes, or one minute for each of the people killed in the Parkland shooting.