By Niki Cervantes
Staff Writer
March 1, 2018 -- The popular but worn-down public paths at Santa Monica's Palisades Park and Virginia Avenue Park are poised to temporarily close this spring while being replaced with a natural, non-eroding material.
The project will replace about 115,000 square feet of the two paths existing granite, which is decomposing after being worn down over time by pedestrians, joggers and cyclists.

Battered by weather over the years as well, the paths are marred by uneven surfaces which "degrade the experience of the users," a staff report to the City Council said.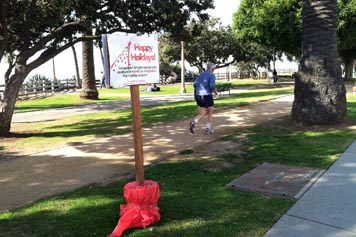 Jogger on Palisades Park path in 2012
A $786,500 contract for the replacement work with STL Landscape, Inc. was approved by the City Council Tuesday night.
Tuesday's staff report said the two park pathways will be replaced with a product which is a made of "natural, organic, permeable and non-eroding material."

Construction work is anticipated to begin in May 2018 and last about four months, according to the report from the City's Public Works Department.
The work will be phased in at the two sites, and the City will attempt to "ensure that impacts to park use are minimized to the extent possible during peak summer dates," the report said.
"Further delaying the project would fail to address community complaints and accessibility concerns related to the poor conditions of the parks' pathways," staff said.
Staff added that they anticipate "access interruptions" to specific areas of the park.

"To mitigate these temporary public impacts, staff will conduct comprehensive outreach, including weekly updates on the City's 'Know Before You Go' (KBUG) web page and in the local press.

For work requiring temporary closures of park trails or facilities, "highly visible signs would be placed at the parks to notify the public."
Notices also will be mailed and information will be posted on social media and the City's webpage, the report said.
Six vendors competed for the job, according to staff.
STL Landscape, Inc. has completed similar projects for Caltrans, Los Angeles County, Montebello Unified School District and the cities of Santa Ana, Claremont and Rolling Hills Estate, as well as the City Santa Monica.
It provided the lowest bid.