By Jorge Casuso
March 1, 2018 -- Santa Monica police are searching for a suspect who robbed a jewelry store on Montana Avenue late Thursday afternoon armed with a "suspicious device" that may have been a bomb.
The incident took place at around 5:30 p.m. at the "Curated Los Angeles" jewelry store on the 1600 block of Montana, police said.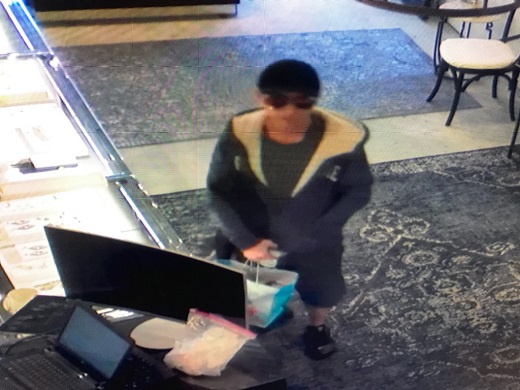 Suspect in robbery of Montana Avenue jewelry store (Courtesy SMPD)
The suspect -- described as a Hispanic or Caucasian male around 30 years old -- entered the store "holding a suspicious device," said Lt. Saul Rodriguez, the Police Department spokesman.
He demanded merchandise from a store employee who complied, Rodriguez said
"The suspect began to argue with the employee and fled the store with the suspicious device," he said.
The suspect dropped the merchandise inside the store as he fled and entered a vehicle, striking several parked cars as he headed northbound on 15th Street, Rodriguez said.
The car struck a parked vehicle at the 300 block of 15th Street and came to a stop, police said.
The suspect exited the car and fled the area on foot north into the residential area.
"As the first responding officer checked the vehicle, he noticed a suspicious device on the ground next to the driver's side of the car," Rodriguez said.
Police established a perimeter around the immediate area as SMPD's K9 and SWAT Teams conducted an extensive search for the suspect, who remained at large as of midnight.
He was last seen wearing a black hooded sweatshirt and dark colored shorts and is about 5'9" tall, police said
The Los Angeles County Sheriff's Department Bomb Squad responded to the scene and detonated the device, which "remains under investigation for its contents," Rodriguez said.
Anyone with information related to this investigation is encouraged to contact the Santa Monica Police Department at (310) 458-8491.