By Lookout Staff

June 14, 2016 -- Can't wait to party on the Fourth of July? No problem. Santa Monica will start celebrating early again this year.
On Saturday, June 25, Santa Monica College presents "Celebrate America," a free community festival that features fireworks, entertainment and a food drive at Corsair Field.
Parking lots open at 4 p.m. and can be entered at Pico Boulevard and 17th Street). Gates open at 5 p.m. Entertainment begins at 7 p.m. and the fireworks start blazing at 9 p.m.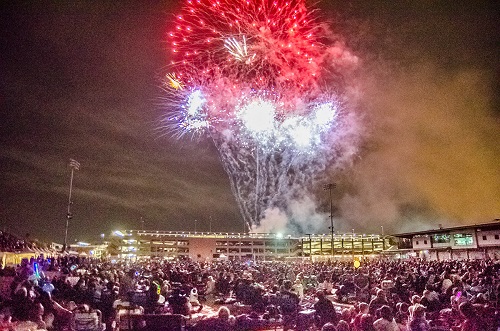 Then, on the big day itself, Main Street hosts the 10th Annual Santa Monica 4th of July Parade presented by the Ocean Park Association (OPA). The parade drew a crowd of approximately 10,000 spectators and participants last year, a representative said.
And "this year promises to be grander than ever," said parade chair Jeff Jarow.
Beginning at 9:30 a.m. at the intersection of Pico Boulevard and Main Street, the parade proceeds south on Main Street to Marine Street and heads west along Barnard Way to beach parking lot Number 5.
Parade participation can be as "loosely structured as people wearing matching t-shirts or as beautifully decorated as a float with amplified musicians," the parade's organizers said.
"From antique cars to cyclists, marching bands, dancers and more, you'll see the red, white & blue in all shapes and sizes."
Entering as a participant costs $25 and the deadline to submit an entry is June 20th. More information is available at www.santamonicaparade.com.
SMC's Celebrate America fireworks display -– the only one in Santa Monica –- is by Rialto-based Pyro Spectaculars Entertainment. Live music will include the Chris Mulkey Band, which plays Country Rock, and feature Eddie Jauregui as Master of Ceremonies.
This year's festivities will include a food drive sponsored by the Associated Students of SMC, in partnership with Westside Food Bank, for students in need.
Guests are encouraged to bring donations of unopened, nonperishable food items to one of the multiple drop-off locations that will be available on site.
Also new this year will be the "Welcome Lounge", where guests can meet SMC's new Superintendent/President Dr. Kathryn E. Jeffery as well as learn more about all things SMC -- including its award-winning NPR member radio station KCRW (89.9 FM) and The Broad Stage at the SMC Performing Arts Center.

There will also be community service booths, food trucks and food booths operated by Coffee Bean & Tea Leaf(r), the SMC Veterans' Center, Big King(r), and Kettle Corn and Stuff.
Guests are welcome to picnic, but alcoholic beverages, glass containers, barbecues, fireworks (including sparklers), and chairs with pointed legs are prohibited. Smoking is also prohibited.
The event is free (although donations are welcome) and parking is $5. For more information visit the Celebrate America website (www.smc.edu/CelebrateAmerica) or call (310) 434-3001 for additional details.
Celebrate America is hosted by Santa Monica College, the City of Santa Monica, the Associated Students of Santa Monica College and the Santa Monica-Malibu Unified School District.
Event sponsors include Halton Pardee & Partners, Coffee Bean & Tea Leaf(r), Bourget Brothers Building Materials and the Los Angeles Metropolitan Transportation Authority (LA Metro).