Zoning Changes Raise Neighborhood Activists' Suspicions


Harding, Larmore Kutcher & Kozal, LLP

When one lives in a city as breathtakingly beautiful and unique as Santa Monica, inevitably that city will be shared with visitors.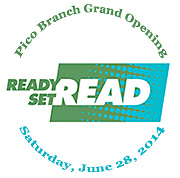 The Pico Branch Library, 2201 Pico Boulevard, is now open
By Jonathan Friedman
Associate Editor

June 24, 2014 -- City leaders could revert plots of land recently marked for commercial use to their previous designation of residential, which pleases many neighborhood activists. But the activists are troubled by what they say have been inconsistent statements from City officials on how the original land-use designation change happened.

At last week's Planning Commission meeting, City staff recommended and the commission agreed that nearly all of the 89 parcels with the inconsistent designation of residential in the City's Zoning Ordinance and commercial in the municipal General Plan's Land Use and Circulation Element (LUCE) should have their LUCE designation reverted to residential.

Planning Commissioner Sue Himmelrich said it was her understanding that the inconsistencies were due to a "mistake" and made "unwittingly or unknowingly" when the City Council approved the update of the LUCE in 2010.

But Barry Rosenbaum, the City's senior land use attorney, said he wouldn't characterize the approval of the LUCE maps as a mistake.

"The decision that were made, staff was conscious of the decisions that were made and why they were made," he said. "But the matter is before you to kind of re-examine that."

There has been speculation about how and when City staff made the changes, and whether council members were aware of them when they approved the LUCE update.

Planning Director David Martin elaborated, "We got questions from the community and from council members and others saying where and when was this discussed during the LUCE process."

He continued, "And we weren't really able to identify certain places either in staff reports or in presentations where those changes were thoroughly discussed. So that is why we are bringing it forward to you in this fashion."

Martin went on to explain why some of the land-use changes were made, including to accommodate so-called activity centers that feature mixed-use development.

These explanations were news to the neighborhood activists who spoke at meeting. They were especially concerned about lots marked as A overlay parcels that were next to residential areas, but allowed for parking lot construction to serve adjacent commercial properties.

"This is the first time I've ever heard the City planner explain what has happened with these A lots," said Tricia Crane, vice president of Santa Monica Northeast Neighbors. "We were always told this was a mystery; no one knew what happened. And tonight we've heard multiple explanations."

She added, "I feel it's a bit of a whitewash what we're engaging in tonight. As much as we want these changes, I'm stunned."

Resident Roger Hill said, "There was a total lack of transparency because a decision was made lacking input from the public who were directly impacted by the decision of staff."

This discussion was part of the commission's ongoing process of making recommendations for the updating of the City's Zoning Ordinance. These recommendations will eventually go to the City Council, which will make the final decision.