By Lookout Staff
June 18, 2014 -- Downtown Santa Monica will mark the 25th anniversary of Third Street Promenade this year with two offerings that helped make the outdoor strip a smashing success – food and movies.
Among the special events and festivities marking the milestone will be an outdoor film series and picnics where residents and workers can take a break to catch up with their neighbors and friends and enjoy the world-famous venue.
Fridays, starting July 11 and lasting through the summer, DTSM will screen a classic movie outdoors at Wilshire Boulevard as part of the Cinema on the Street free film series.
The outdoor movie experience allows visitors to see their favorite stars under the stars, according to Downtown officials. Free gifts like playing cards and drink infusers will be handed out, while supplies last.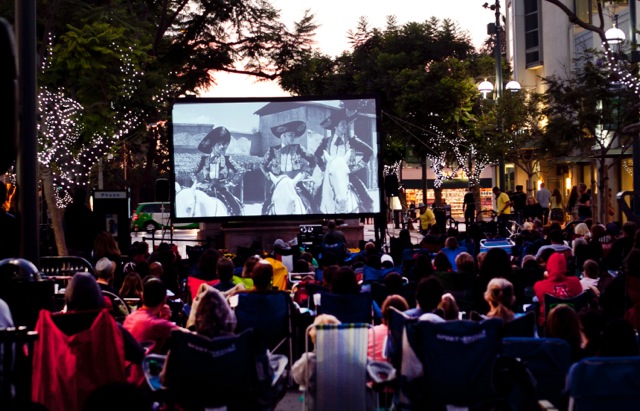 Ourdoor Film Screenings Free in Downtown Santa Monica. Photo courtesy of Downtown Santa Monica Inc.
The series will launch with the baseball classic "A Field of Dreams" and wrap up with "Indiana Jones and the Last Crusade," both blockbuster films from 1989, the year the Promenade was re-envisioned.
"The tagline for 'A Field of Dreams' is 'If you build it, [they] will come,' which holds true for the Promenade," said Kevin Herrera, DTSM's senior communications manager.
"The civic leaders who helped create the Promenade had no idea it would be as popular as it is today," Herrera said. "They didn't know if people would come. Well, they certainly have and continue to do so."
Each night of the cinema series will have a particular theme. For "Field of Dreams" people are encouraged to come dressed in their favorite sports team's colors or wear their favorite player's jersey.
The complete list of movies being screened at the Promenade is as follows:
July 11: Field of Dreams
July 18: The Wizard of Oz
July 25: Airplane!
August 1: Apollo 13
August 8: How to Train Your Dragon
August 15: Indian Jones and the Last Crusade

In addition to the film series, every Friday through mid-September, Downtown Santa Monica, Inc (DTSM) will host a weekly Picnic on the Promenade.
From noon to 3 p.m. picnic tables and umbrellas will spring up in Center Court, between Santa Monica Boulevard and Arizona Avenue, offering workers a chance to enjoy a cubicle-free lunch where the active ingredients are sunlight, the sea breeze, a vibrant scene and live music provided by KCRW DJs and the Promenade's talented buskers.
"We're looking to incorporate street performers, local businesses, and non-profits to make the events entertaining as well as informative," Herrera said.
"We want to get people out of their cubicles and let them mingle, catch up on current events or simply relax and enjoy the day," he said.