By Daniel Larios
Staff Writer
June 17, 2014 – The 23rd annual Santa Monica Festival at Clover Park on Saturday drew thousands of people from across the region to enjoy a family outing on the eve of Father's Day.
In addition to family friendly events, the annual festival offers tips for sustainable living and features cultural activities, including art workshops, cooking demonstrations, musical performances fitness classes and even a bicycle rodeo.
Dancers performing at the Santa Monica Festival. Pictures courtesy of Zina Markevicius.
Angelenos came to Santa Monica to "see, taste, and experience one of the most innovative beach cities in the U.S., a national model for sustainability and cultural vitality," said Ashley E. Rodgers, spokesperson for the Festival.

The festival kicked off with music and dance performances, starting with a drum circle composed of local residents. Performers also included a seven man blue grass band, a hip hop dance troupe, gospel singers and soul music.
Visitors chat with the Santa Monica Fire Department. Photo courtesy of Zina Markevicius.
One highlight of the festival was the Juneteenth celebration, which commemorated the day the last slaves were freed in America in 1865. The celebration included storytelling and exhibits depicting the history of the abolitionist movements, as well as live music from different genres, including Motown, Afro-fusion, Cuban salsa, gospel and blues.
The festival was divided into several areas, each with different themes and specialties.
The Farmers Market Culinary Stage, MC'ed by Santa Monica Farmers Market supervisor Laura Avery, presented a whole slate of food-related demonstrations with local chefs and culinary experts.
Food demonstrations at the Santa Monica Festival. Photos courtesy of Zina Markevicius.
Young visitors got a chance to participate in several nutrition-related presentations in Kids' Kitchen with health nutritionist Kelly Dumke. Kids also had the chance to test their culinary skills during a kitchen tool quiz and simple recipe preparations.
Festival goers got the chance to cool off by mixing their own ice cream made with fresh local ingredients with Shiho Yoshikawa of Sweet Rose Creamery.

The Active Stage featured a variety of workshops promoting the benefits of fitness. Classes ranging from yoga and karate to Zumba and world dance were available to visitors of all ages.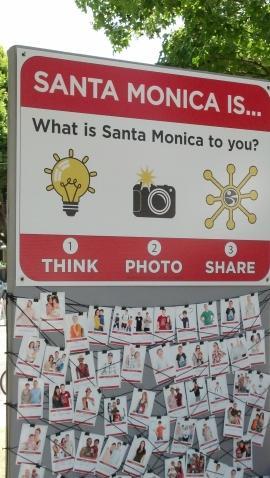 Santa Monica Festival. Photo courtesy of Zina Markevicius.
The festival was catered by a number of food trucks and carts.