By Daniel Larios
Staff Writer
June 6, 2014 – The Santa Monica Police Department (SMPD) and the Federal Bureau of Investigation (FBI) are seeking information on an alleged carjacking suspect who is considered armed and dangerous.
David William Guyer, 45, is wanted by SMPD and the FBI for his alleged involvement in a carjacking that occurred in November of last year, according to Lt. Richard Lewis of the SMPD.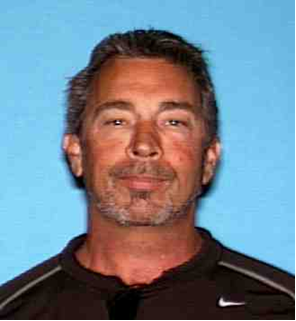 Carjacking Suspect David Guyer is wanted for carjacking and is considered armed and dangerous. Photo courtesy of the SMPD.
On November 3, 2013, Guyer entered the W.I. Simonson Mercedes dealership in Santa Monica and requested to test drive a car.
He gave the salesperson an Arizona driver's license, which was then photocopied and retained for the dealership's records.
During the test drive, Guyer stopped the vehicle, told the salesperson he had a gun, and ordered the salesperson out of the vehicle. He then fled the scene. The vehicle was recovered six days later in Hermosa Beach.
According to Lewis, a felony arrest warrant was issued for David Guyer for carjacking on March 19, 2014.
He is described as a 45 year old white male, 6'2", 190lbs, brown hair and green eyes with a closely trimmed goatee. He also has a tattoo on his right arm and right forearm. He also goes by the alias David W. Stoner, according to the FBI.
Guyer served in the U.S. Marine Corps and is purported to be proficient in martial arts. He has previously lived in Tracy, CA and Venice, CA and may be in the West Los Angeles or South Bay area. Both the FBI and SMPD are warning that he should be considered armed and dangerous.
Anyone with information is asked to contact Detective Chad Goodwin at (310) 458-8942, Sergeant Tom McLaughlin at (310) 458-8430, the Santa Monica Police Department (24 hours) at (310) 458-8495, or the FBI's Los Angeles Field Office at (310) 477-6565 .
Callers can also contact Crime Stoppers by either calling (800) 222-TIPS, texting from your mobile, or by visiting their website at www.lacrimestoppers.org.
Callers may remain anonymous and may be qualified to receive a $1,000 reward by Crime Stoppers.
The FBI is also offering a reward of up to $5,000 for information leading to the arrest of David Guyer.