By Lookout Staff

May 28, 2013 -- The Santa Monica Conservancy will offer a chance to stroll through the city's past when it opens five award-winning historic places for public visits Sunday.

The self-guided tour, which kicks off at noon and ends at 5 p.m., includes a cemetery built during the Spanish and Mexican period and Barnum Hall, a 1930's gem built as a Works Progress Administration (WPA) project, Conservancy officials said.
Hollister Court. Photos Courtesy of the Santa Monica Conservancy
The five buildings highlight a decade of Preservation Awards and "are among Santa Monica's most inspiring preservation accomplishments," officials said.
"Each site reveals exemplary commitment to protecting and preserving Santa Monica's heritage," said Carol Lemlein, president of the Conservancy board.
.
The highlight of the tour is likely the little seen Marquez Family Cemetery, which is hidden behind a quiet garden surrounded by Santa Monica Canyon homes.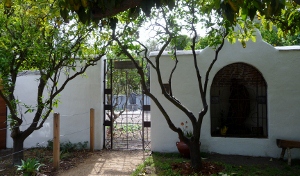 Marquez Family Cemetery
"Powerfully evocative" of Santa Monica's Spanish and Mexican heritage, it is all that remains of the 6,565 acre Rancho Boca de Santa Monica, a land grant made in 1839 to Francisco Marquez and Ysidro Reyes, Lemlein said.
"You will learn who is buried there and how the struggle to preserve it with public access was finally won," she said.
Historian and author Ernest Marquez, who was given the 2012 President's Award for his commitment to preserving Santa Monica's early history, will be at the site during the tour.
Another highlight of the tour is Santa Monica High School's Barnum Hall, a major landmark that is a "striking example" of Streamline Moderne architecture with interior artwork by Stanton McDonald Wright, officials said.
The auditorium, which has been restored and renovated as a public performance space, is a major venue for concerts, plays and public forums.
Also on the tour is the Baxter Residence, "an unusual historic home" from the first decade of the twentieth century, Lemlein said.
Designated as a Santa Monica Structure of Merit in 1999, the house was saved from demolition by its current owner, moved across town to Sunset Park and "sensitively restored," Lemlein said.
In addition, the tour includes an Ocean Park Craftsman home built in 1915 that won the 2013 Renovation Award, and Hollister Court, a collection of early 1900s Craftsman bungalows in a lushly landscaped that were divided into condominiums in 1993.
Docents at each site will describe this select group of award-winning places that are among Santa Monica's most inspiring preservation accomplishments.
Tickets are $40 for the public, $30 for Conservancy members. A limited number of tickets will be available on tour day at the check-in location on Civic Center Drive on the south side of the Civic Center Parking Structure.
For information and ticket purchase visit www.smconservancy.org.