By Jorge Casuso

May 24, 2013 -- When Santa Monica College student Scott Pine arrived at a Manhattan penthouse last month for an Alumni Association reception, he was there as one of the school's 13 student ambassador.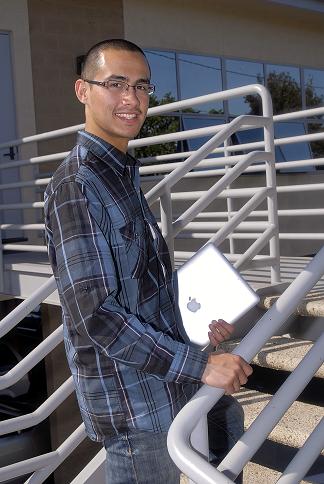 Scott Pine. Photo courtesy Santa Monica College
His task was to set up a table with t-shirts, make sure the food was ready and greet the guests, most of whom were former and prospective students. His role was to put a public face on Santa Monica College
When Pine left that night, he had become the focus of attention after it was announced he had been awarded a prestigious Jack Kent Cooke (JKC) Undergraduate Transfer Scholarship, the largest private-funded scholarship of its kind in the nation.
Pine was one of 73 students chosen from among 769 nominees from 377 community colleges for the award, which grants as much as $30,000 a year for students to complete their bachelor's degrees at four-year colleges or universities.
Recipients can use the award to pay for tuition, room and board, books and required fees and can pursue any area of study. They also gain access to the greater JKCF Scholar community.
"I was happy, but not surprised that Scott Pine was the recipient of the Jack Kent Cooke Scholarship," said SMC President Dr. Chui L. Tsang, who made the surprise announcement at the alumni agatherings. "He is extremely focused on getting an education and he is on a mission.
"Scott is a remarkable young man who is determined, goal-oriented and has distinguished himself as an outstanding student," Tsang said recently. "They couldn't have picked a more deserving person."
Scholarship winners are chosen for their "exceptional academic ability and achievements, financial need, persistence, leadership, and a desire to help others," according to the Foundation, which was started in 2002.
A psychology major, Pine has been engaged in original research in psychology, has had an article published by a trade journal and is a volunteer intern at the UCLA psychology lab. He is transferring this fall to UCLA, where he plans to major in social psychology or industrial-organizational psychology.
"My experiences at SMC have taught me that success is not a solo endeavor, but rather a collective effort to reach one's goals," said Pine, who was raised by a single mother.
To help guide him though the daunting application process, Pine turned to Stephen Olsen, who two years earlier became the first SMC student to win the prestigious award.
"He went through what I deem a painstaking, anxiety-laden process," said Pine, who is part Filipino. "I believed I could learn something from his success. After speaking with him, I became confident in my ability to be nominated by SMC."
The road to the scholarship was a hard one for Pine. A C student in high school, Pine says he was "frequently truant, nonchalant, and disrespectful in class." His goal was to become a football star.
But his dream came to a sudden end in high school when Pine sustained head blows so severe he lost his ability to read, write and speak.
"I remember the eerie feeling of losing" those abilities, recalls Pine. "My eyes scanned the words of the assignment, but nothing registered. I thought my life was over."
In fact, it was about to begin. The injury gave Pine time to think about the life without football that lay ahead of him.
"I was forced to give up everything I had worked so hard for," Pine says. "I lay in bed for three weeks in complete darkness and thought about my situation and my future. Losing brain function revealed the importance for me to embrace my remaining talents and opportunities in school."
For Pine, the long journey on a new path began when he read The Autobiography of Malcolm X as he lay "mummified in bed" after his concussion.
"It really spoke to my situation," "Pine recalls. "We both came from a divorced family. When he was in jail he realized he had hit rock bottom. I was locked up in my room.
"Physically, emotionally and psychologically, this showed me I could pick myself back up," Pine says. "I was inspired to understand my history, what role I play in society. Like Malcolm X, relearning to use my mind would expand my vision of life."
Pine began to devour books with the same passion and intensity he had displayed on the gridiron, and he became politically involved when an assignment he presented in social studies class during junior year "inadvertently sparked" a grassroots organization.
Since it was launched in 2009, the Venice Japanese American Memorial Marker committee has raised $80,000 of the $100,000 needed to install a marker to commemorative the Venice-area Japanese Americans interned during WWII.
Pine, whose speeches helped raise $25,000, hopes the marker will raise awareness "of this historic injustice so that citizens can remain vigilant of their constitutional rights."
"For the first time," Pine recalls, "I witnessed how applying my knowledge could benefit my community, which reinforced my commitment to school."
Part of the Extended Opportunity Program and Services (EOPS), Pine is also a Dale Ride intern. He has been active both on campus and in the community, helping to raise $24,000 for the Venice Japanese American Memorial Marker.
"He is simply amazing and inspiring and kind and impressive and the best example of an outstanding graduate that I have ever seen at SMC," said Kiersten Elliott, SMC's Dean of Enrollment Services.
When Dr. Tsang made the special announcement at the alumni gathering April 16 that Pine had won the Jack Kent Cook Scholarship, those who knew him and all he had been through were not surprised. But everyone in the room was moved.
"Tears rolled down his face, and everyone in the audience cried," said Deirdre Weaver, SMC's assistant director of campus and alumni relations, who organized the event. "It was clear that SMC was a place committed to excellent education. It was powerful."
"When Scott got the award," recalled Mike Tuitasi, SMC's vice president of student affairs, "people thought, 'Wow, this is a great institution.'"