By Jason Islas
Staff Writer

May 16, 2013 -- The Santa Monica City Council voted Tuesday night to throw its weight behind a movement to deny corporations constitutional protections.

In a 5 to 1 vote, the City Council supported a resolution by the group Move to Amend, which seeks to change the United States constitution to strip corporations of any protections afforded them under national law.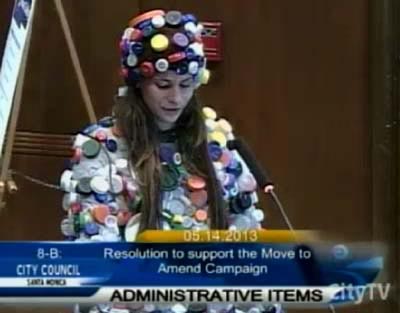 City of Santa Monica Council Meeting
"The illegitimate judicial bestowal of civil and political rights upon corporations usurps basic human and Constitutional rights guaranteed to human persons," reads the resolution, drafted by the City's Office of Sustainability and the Environment.
Staff recommended that the City Council join Move to Amend's drive to abolish "corporate personhood" after the Supreme Court ruled that corporate spending on political campaigns was constitutionally protected free speech.
One of the resolution's sponsors, Council member Kevin McKeown, said he is proud to live in a country that upholds individual rights but added, "It's troublesome that corporations are assumed to have those same rights."
About a dozen residents -- one draped in empty plastic bottles, another in bottle caps -- testified Tuesday night, all in support of the resolution.
One Ocean Park resident called for action because he said that during his lifetime, he had seen a "creep toward fascism" and "corporate domination."
A local business owner told the City Council that he believed democracy in the U.S. was at risk as a result of the undue influence of corporate power.
His sentiment was echoed by a Santa Monica High School (SAMOHI) student wearing a costume festooned with empty water bottles.
"Big corporations are here to work for us," she said. "Not control us."
Another SAMOHI student, wearing a costume studded with bottle caps, seconded the need for limiting corporate rights.
Council member Gleam Davis cast the sole dissenting vote Tuesday saying she supported limits on corporate campaign spending but thought the Move to Amend resolution could have unforeseen consequences.
Proponents said that Move to Amend's proposal would not deprive individual stakeholders of their rights. It would only affect corporate entities.
"If a small business holds a lease on its property in its corporate name, what do you anticipate happening if that corporation doesn't have rights against unreasonable search and seizure?" she asked Tuesday.
Proponents argued that stakeholders' could assert their rights in such events, but Davis disagreed.
"I've only been practicing law for 34 years, so I may be wrong about this, but that's not how it works in the real world," she said.
Davis echoed her concerns made at a January 2012 City Council meeting when City staff originally asked the Council to support Move to Amend's resolution.
The Council voted it down 4 to 2 because the majority worried about the impact a constitutional amendment would have on nonprofit and other corporate institutions, including labor unions or Santa Monica's affordable housing provider, Community Corporation.
Then-Mayor Richard Bloom joined Davis, Council members Bobby Shriver and Bob Holbrook in opposition to the resolution saying he thought a Constitutional amendment was "a step too far."
But with Bloom and Shriver replaced by Ted Winterer and Tony Vazquez last December, Council members Terry O'Day and McKeown asked for the resolution to return.
The vote comes a week before voters in the City of Los Angeles will be asked to vote on Proposition C, which would support amending the constitution to say "corporations do not have the constitutional rights of human beings."