First of two parts: Current Public Projects
By Jorge Casuso
April 24, 2013 -- Over the next five years, construction crews will be busy in Downtown Santa Monica paving the way for the future. It is a future that includes a new rail line and station, an esplanade, a state-of-the-art parking structure and two new bridges – one leading on to the pier, the other down to PCH.
Some of these projects are already underway, while others are still in the design stages. But for years, City officials, with the help of their Downtown counterparts, have been working to make sure that construction runs smoothly and traffic continues to flow.
Images courtesy City of Santa Monica
"There's a tremendous amount of coordination going on behind the scenes to make sure impacts are minimized," said Kate Vernez, Deputy City Manager for Special Projects.
"The idea is to avoid conflicts as much as possible with multiple projects and help people plan their day."
To do this, the City launched its "Be Excited, Be Prepared" campaign that combines "high-tech and high-touch" tools to keep the community informed and involved with the projects. For more information visit: www.smgov.net/bebp.
Users can also get the latest information on the impact of construction on traffic, parking and public transportation, as well as details on street closures and detours. They also can sign up for traffic alerts at smconstructs.org.
"We wanted to provide the latest information all in one place," Vernez said.
CURRENT PROJECTS
Public Parking Structure #6
Last year, the old public parking structure on 2nd Street and Broadway was dismantled piece by piece to minimize impacts, and work crews are busy excavating the site. By 2014 a new and improved Parking Structure 6 will reopen.
The new structure will boast more than twice as many parking spaces as the old — enough for 748 cars, 90 bikes and 19 motorcycles — on eight levels above ground and three levels below. It also will feature some 7,000 square feet of retail space on 2nd Street, as well as sustainable elements and a staircase with ocean views, City officials said.
Among the structure's sustainable features are a façade of aluminum fins to reflect diffused sunlight into the facility, solar panels expected to generate 80 kilowatts and charging stations for 30 electric vehicles.
There will not be road closures during construction, but motorists are encouraged to take alternate routes to avoid the trucks entering and exiting the site.
For more information on other available public parking nearby, visit Santa Monica Parking at www.smgov.net/parking.
Expo Light Rail Line
The light rail bridge crossing Olympic Boulevard is already being laid, and in Downtown Santa Monica the sound of jackhammers and heavy equipment can be heard along Colorado Avenue. After two decades of planning, the Expo Light Rail line that will connect Downtown Santa Monica to Downtown LA is quickly turning from dream to concrete reality.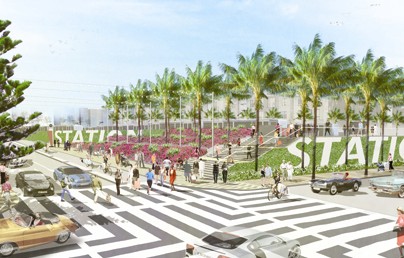 Santa Monica Downtown Future Expo Light Rail line Station
In February, Colorado Avenue eastbound between 4th and 5th streets was closed to pave the way for construction of the Downtown train station at the former Sears Automotive site — the final stop on the 15-mile, $2.5 billion rail line — and the adjacent Colorado Esplanade.
In addition, Colorado has been closed from 2nd to 10th streets between 9 p.m. and 6 a.m., as well as during non-peak travel hours from 9:30 a.m. to 3 p.m. The intersection of Lincoln Boulevard and Colorado between Broadway and the I-10 Freeway is partially closed between 9 p.m. and 6 a.m., while northbound and southbound traffic lanes have been reduced during nighttime hours.
Once the Expo line opens in 2016, as many as 400 passengers are expected to get on and off the train Downtown every five minutes during peak hours. In addition to the Downtown station, the line will make stops at Olympic/26th Street and at Colorado Avenue/17th Street.
The rail line, City officials said, will offer a great option for Santa Monicans to move around town gridlock-free, and get from here to Downtown LA in less than 50 minutes — even during rush hour.
For more information about the Expo Line project, visit: BuildExpo.org or call (213) 922-EXPO (3976).