By Melonie Magruder

April 23 , 2013 -- Much has changed in Downtown Santa Monica since the Promenade opened in 1989. Third Street, once a gloomy, depressed stretch of stores that closed after sunset, has now become an international destination.

Major retailers now vie for some of the priciest commercial spaces in California, if not the country. And world-class restaurants and stores cater to throngs of locals and visitors, many from around the world.

Riding the success of Downtown's startling transformation over the past quarter century are some 30 businesses that have managed to stand out and thrive in a wildly competitive market. Many have retained the loyal customer base that kept them in business during tough times, while winning over a new clientele that is increasingly sophisticated and willing to spend.

Many businesses have managed to continue ringing up sales in Downtown Santa Monica for over two generations.

One of the longest standing businesses Downtown is Adamm's Stained Glass Studio & Art Gallery, a staple of 4th Street for 33 years. A stained glass artist based in Los Angeles since 1978, Adamm Gritlefeld not only showcases his own luminous works, he displays many other artists specializing in glass art — from blown glass vases, to jewelry, to windows worthy of synagogues and churches across the country.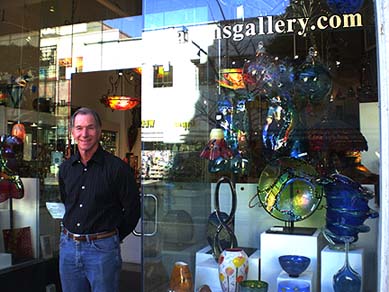 Artist Adamm Grittlefeld. Photos Courtesy of Santa Monica Down Town
"I've seen a huge change in business over the past several years," Gritlefeld says, standing amidst a kaleidoscope of light and shimmering color in his shop at 1426 4th Street. "The ratio of my customers who are tourists to those who are locals has flipped entirely."
Today, most of his shop's clients are tourists, while "maybe 25 percent" are locals, Gritlefeld says. The new customers, he adds, are willing to spend more.
"People used to ask me, 'Why is your stuff so expensive?' and that was back when I was only charging $40 for a piece," he says, laughing. "That's when they used to go for the functional pieces like vases. Today, people are becoming more educated, they have eclectic tastes, and are going for sculptural art."
Gritlefeld continues to showcase artists he has known for 30 years and says he expects business to continue doing well. "I'm not going anywhere," he grins.
Across the street and a few doors down at 1445 4th Street, Border Grill has become a nationally–recognized brand since Mary Sue Milliken and Susan Feniger opened their doors in 1990.
The Border Grill in Santa Monica.
According to legend, the two took a cooking road trip to Mexico in 1985, where they studied authentic Oaxacan and Yucatan cuisine and brought back an untried wealth of Latin culinary knowledge to Downtown Santa Monica. Their green-corn tamales and cactus-paddle tacos hypnotized the city, and they soon opened sister Border Grills in downtown Los Angeles and Las Vegas.
To mix things up, Milliken and Feniger now offer Meatless Monday menus, as well as Brunch Cooking Classes. They also have competed on Bravo's "Top Chef Masters," winning tens of thousands of dollars for their favorite charities.
"The biggest change with our customers, whether tourists or locals, is that everyone is more sophisticated," Milliken says. "People now pay attention to what they're eating and where it's coming from. That's why we buy local and sustainable. People insist on it."
The culture of more discerning palates has become pervasive in Santa Monica, Milliken says. She points out Penzey's Spices down the street and says she welcomes customers' adventurous requests.
"We've got a solid core of locals that are in the second generation now, so we can celebrate birthdays and babies with them," Milliken says.
Two blocks north is a storefront whose business is to dress up and show customers a good time. The Santa Monica Playhouse at 1211 4th Street is one of those intimate community theatres that has managed to pull off an increasingly rare act: they've stayed alive for more than 50 years!
Santa Monica Playhouse Entrance.
Co-Artistic Directors Chris DeCarlo and Evelyn Rudie have been at the Playhouse since the early 60s. After DeCarlo returned from a stint in Vietnam in 1970, they got married and, well, never left the theatre.
Some 20,000 performances and nearly two million audience members later, the Santa Monica Playhouse has survived by expanding its repertoire with "what people want to see and what artists want to present," Rudie says.
The Playhouse offers theatre classes for all ages, presents local playwrights' work, exchanges theatrical productions with companies around the world, spruces up birthday parties and creates a new, family-oriented musical review every New Year's Eve.
A lot of their success lies in dogged output. "During any year, we present at least 50 plays," Rudie said. "Ten or 15 are our own repertory, and we also bring in new playwrights and student productions. It's how we keep the community involved."
And, she adds, it also doesn't hurt to have a subscription base that now spans three generations.
When Michael McCarty first arrived in Santa Monica looking to open a new kind of dining experience, all the stores along Third Street were boarded up. "It was a disaster," he recalls, "a Woolworth's with a real soda counter and not much else."
Thirty-four years later, Michael's Santa Monica restaurant on Third Street just north of the Promenade is world renowned for bringing truly international cuisine and sustainable, farm-to-table regional foods and wines to Southern California palates.
McCarty's chef, John-Carlos Kuramoto, is 25 years old and unafraid to plumb every corner of the world for a new taste adventure. The exotic outdoor dining patio is, McCarty swears, "the most beautiful dining room in the city," and he says his upstairs bar reserved for private parties is busy almost every night of the week.
"The biggest change to my business are the new apartment dwellers north of Wilshire," McCarty says. "I call them DINKS – Dual Income, No Kids – and they come out to dine every night of the week."
When you ask McCarty what the dining future is, he roars, "We're it! I think people love that we're still a living example of true hospitality and our menus reflect their changing tastes, currently lots of small plates and mouth-watering mixes of organic vegetables and locally-sourced meats."
McCarty thinks he has the winning recipe for success. "We have smart clients," he says. "And we treat them that way."
Hanna Hartnell's shop on 4th Street has been open for 18 years – ten of them in a second-floor location above the Promenade. But her dresses and bridal gowns are so sensuously accommodating to the wearer, she says, that she's been able to go from designing for wholesale buyers to made-to-order retail.
Designer Hanna Hartnell's in her shop in Santa Monica.
Once she established a presence online, brides began to find her. Hartnell's name is so respected that she counts a number of celebrities among her clientele, including Molly Ringwald who recently had a gown fitted for an event honoring actor Dennis Hopper.

Hartnell says she enjoys being able to "get inside a client's head" and design for her personally. "My client is a successful young businesswoman, early 30s, who likes herself," Hartnell said. "She can afford a gown designed for her."
Though the recession cut into a lot of Hartnell's business catering to charity fundraisers and corporate parties, she's not worried about the future.
"DTSM has just been wonderful for business here the last several years," says Hartnell, who designed the latest uniforms for the Downtown Ambassadors. "They've done so much to bring locals out to appreciate the dynamic changes that have occurred, creating a place you want to walk around and enjoy."

Then she pauses and adds, "And thank God people continue to get married!"
The following businesses and organizations have been located in Downtown Santa Monica since at least 1990:
Adamm's Stained Glass
AMC
Art One Gallery
Bank of America
Bay Cities Beauty Supply
Bay Lighting
Border Grill
Bravo Cucina
Broadway Theaters
First Presbyterian Church
Garbo Shoe Repair
Hanna Hartnell Studio
Hennessey & Ingalls
Interactive Café
Johnnie's Pizza
Laemmle Monica 4-Plex
Mark Weintraub - Optometrist


Michael's Restaurant
Peter's Barber Shop
Planned Parenthood
Readers Fine Jewelers
Santa Monica Bay Women's Club
Santa Monica Homeopathic Pharmacy
Santa Monica Playhouse
St. Augustine's by the Sea Episcopal Church
St. Peter & St. Paul's Coptic Orthodox Church
Stop N'Café
Taos Indian Trading
The Christian Institute
The Jewel Shop
Vidal Sassoon Academy
Wells Fargo
Ye Olde King's Head