By Lookout Staff

April 3, 2013 -- Police arrested a 22-year-old homeless man suspected of breaking into eight cars in mid-City Santa Monica early Tuesday morning.

Keith Aaron Whittington was arrested for allegedly breaking into an burglarizing eight vehicles in the neighborhood around 19th Street, north of Montana Boulevard.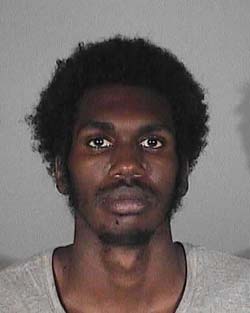 Burglary suspect Keith Whittington (photo courtesy of the Santa Monica Police Department)
"At approximately 4:54 a.m. the Santa Monica Police Department received a 911 call from a resident in the 600 block of 19th Street who stated that she was able to see a male black suspect wearing a black hoodie inside a vehicle that was parked on the street," according to an official statement issued by the Santa Monica Police.
The caller told police that the vehicle did not belong to the suspect.
"The reporting party added that the suspect had exited the vehicle, crossed the street and was trying to gain access to another parked vehicle," SMPD officials said.
Police said that the suspect started walking south toward Alta Avenue while officers hurried to the scene. He then switched directions and began running back north, toward Marguerita Avenue.
"A perimeter was established and a K9 Officer from SMPD was called to the location. In addition, officers obtained the assistance from an LAPD airship," officials said.
Police found the suspect hiding in a garage on the 600 block of 19th Street. The investigation is ongoing. Those with additional information should contact the Santa Monica Police at (310) 395-9931.