By Melonie Magruder
Staff Writer
April 20, 2012 -- In four years, the Broad Stage at the Santa Monica College Performing Arts Center has grown from an expensive, new – but untried – facility to a theatre complex attracting first-class, international performance groups.
This year, the arts center will break ground on its next phase of expansion, for a 165-seat music hall that will offer collaborations with Los Angeles Opera.
With sold-out runs, glowing reviews and creative weekend programs geared towards families with children, the Broad is defining itself not just as a community college-affiliated arts center.
It has quickly become known as a venue that features world premiers (as with a Placido Domingo-conducted new opera, "Dulce Rosa"), eclectic world musicians (jazz guitarist Pat Metheny and Brazilian phenomenon Luciana Souza) and partnerships with international theatre groups (Shakespeare's Globe Theatre).
And, according to Donald Girard, SMC's senior director of government relations, such artistic success is coming pretty much paid for.
"No theatre company succeeds on ticket sales alone," Girard said. "But we have an exceptionally strong board of directors with powerful fundraising skills. Our entire operation is now at a break-even point. Which you are not supposed to be able to do."
Artistic Director Dale Franzen has focused on bringing high quality, unexpected, world-renowned artists to the Broad and envisions the new music "East Wing" as playing a central part in her vision for the next five years.
"It will help us expand the scope of our programming and The Broad Stage reputation as a unique cultural landmark," Franzen said. "The way we will build our future is by taking risks on the future.
"People will come to know the Broad as the place to see world-renowned artists departing from the expected, to discover emerging artists re-imagining their disciplines, and to experience classic works interpreted in new ways," Franzen said.
That type of vision -- and a successful marketing campaign on the back of the Big Blue Bus -- has spurred ticket sales and attendance to jump by 60 percent in the past year alone.
This year's run of "Our Town," with actress Helen Hunt surprisingly cast as the Stage Manager, played to nearly sold-out audiences and uniformly enthusiastic reviews. The current production of "In Paris" marks a U.S. premier of the new play based on an Ivan Bunin story, starring acclaimed dancer/actor Mikhail Baryshnikov, and told in French and Russian with English supertitles.
As a facility designed to work in partnership with the college's arts programs, the Broad creates a happy "synergy" to go with its serious and compelling work, said Bruce Smith, the college spokesman and an award-winning playwright.
"There is a whole educational component to the Broad," Smith said. "So we have Master Classes and student performances booked, particularly at the end of semesters.
"But there's also a lot of community outreach with family workshops and kids' concerts," he added. "We end up bussing children from all over the city in for Saturday morning programs."
Some of those programs include multi-media "mash ups" of orchestral music, spoken word performance and costumed theatre, such as the Arts Insight roster of family favorites, including Peter Pan, Young Musician's Foundation concerts and Saint-Saëns' "Carnival of the Animals."
The Broad's fifth season will include performances from the Edinburgh Fringe Festival (Circle of Eleven's "Leo"), the Divolo Dance Theatre and Trey McIntyre Project, and classical musicians Elina Garanca and the Academy of St. Martin in the Fields.
The season also includes performances by beloved artists like Hal Holbrook as Mark Twain, and singers Rickie Lee Jones and Madeline Peyroux.
The new $12.3 million music hall is financed through a 2008 city bond issue and is designed by the architectural firm DLR Group WWCOT. It is scheduled to be completed in late 2014 or early 2015.
As with the Broad main stage (the facility also houses a 99-seat theatre called the "The Edye Second Space"), one of the salient performance pluses will be the intimate nature of the theatre design, college officials said.
"When we first designed this theatre complex, it was with the idea that it was being built for artists," Girard said.
Santa Monica College Broad Theater Interior of East Wing. Photos courtesy of SMC
The new music hall is designed so that a movable wall can be removed to convert the space into a semi-outdoor facility. Plans call for demolishing a part of the Madison Building to make way for the new structure, which will also house a music lab, a rehearsal space, storage areas and additional parking.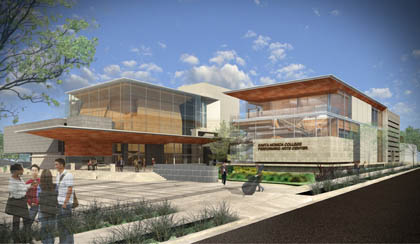 Santa Monica College Broad Theater Exterior of East Wing.
Currently labeled the "East Wing," the music hall will eventually be named for a donor, as the main stage was named after billionaire philanthropists Eli and Edythe Broad.
Franzen said that she is grateful to the local community for being so supportive. Accordingly, a big part of the next season will be in arts education.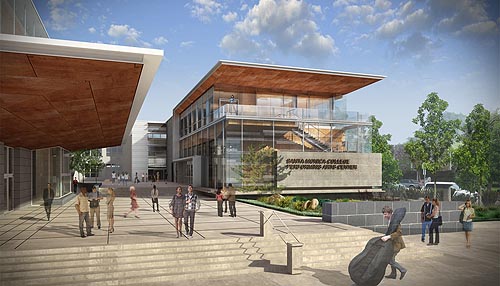 Santa Monica College Broad Theater Exterior of East Wing.

"I'm adding outreach to kids," Franzen said. "It's so sadly disappearing and I firmly believe that one reason for the Broad's success is because we have an extremely educated, intelligent community here in Santa Monica.

"Our brand is to surprise and stimulate and get people talking," she said. "Hopefully we will keep that up."

More information on the Broad's schedule for the 2012-13 season is available at www.uhebroadstage.com.

( (

&nbwp;

<!-)"ÉnStanceEndEditable -->