By Lookout Staff
April 6, 2012 -- Santa Monica's tiniest neighborhood got $2.1 million-worth of streetscape improvements, making it the beneficiary of one of the first "shared streets" projects in the nation.
Unveiled March 30, the project near the City's southwest border with Venice encourages walking and adds sustainable landscaping and urban runoff filtration, City officials said. It also "provides community gathering space while still functioning as a street."
"The aesthetic renewal that has taken place in this neighborhood is a shining example of how the community, government and skilled consultants can partner together to create neighborhoods that are communal, sustainable and beautiful," said Mayor Richard Bloom.
"The neighbors, engineers and designers managed to take this narrow street and fit in places to walk, cycle, play and socialize, and you can still drive on it – if you absolutely must!"
The project -- which included Longfellow and connecting streets Ozone, Marine and Navy Streets, as well as part of Wilson Place east of Lincoln Boulevard -- took nearly six years to complete "due to extensive community input and the ambitious goals of the project," City officials said.
The project began in 2006 when neighbors worried about crime, traffic and quality of life concerns, approached the City Council, which allocated funding for the improvements.
"The area had many constraints that made design a challenge, but both engineers and residents had high hopes," City officials said in a statement.
Longfellow -- a narrow residential street that backs up to multiple commercial properties on Lincoln Blvd. to the east -- "was exceptionally narrow… and paved from property line to property line without sidewalks or landscaping," City officials said.
Neighbors worked closely with City staff and its consultants, the Nelson\Nygaard team, to develop a concept that eliminated curbs and added decorative pavers "to delineate walking, driving and socializing spaces," officials said.
It also added new pedestrian and street lighting, new street trees and drought-tolerant, native landscaping "to give the street a shared-garden, community front yard feel."
The project's sustainable features include urban runoff retention elements, permeable concrete and pavers and solar lighting.
It has brought a stronger sense of neighborhood to the residents; and promotes walking and cycling, while still preserving parking and access for utility and emergency vehicles," officials said.
A new public art feature will be added in the future.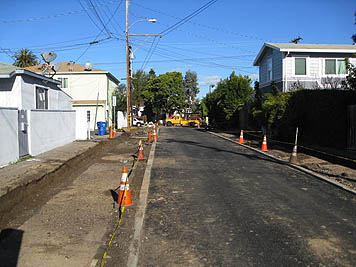 Construction Begins in Borderline, February 2011 (Photos: City of Santa Monica)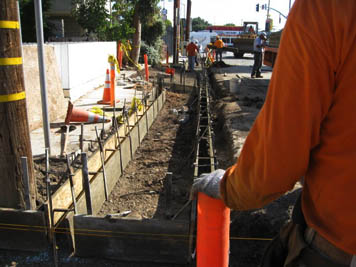 Construction – Landscape areas and water mains
Borderline trees before planting
Decorative pavements and landscaping
Completed project, November 2011
Mayor Bloom and happy neighbors cut the ribbon on the Borderline Shared Streets Project (Photo: Wayne von der Mehden)