By Melonie Magruder
Lookout Staff
April 2, 2012 -- The 2nd annual Buy Local Santa Monica Weekend took place Saturday with hordes of enthusiastic local shoppers visiting more than 80 merchant booths and only a brief rainy interlude.
Shoppers visit Promenade booths. (Photos by Brandon Wise)
The festival, a joint event sponsored by business leaders from Downtown Santa Monica, Inc, the Chamber of Commerce, the Convention + Visitors Bureau and the City's Economic Development Division, was part of a campaign to encourage local residents to get out and support local businesses while having fun.
"I can tell you that, contrary to what you see in the rest of the country, Santa Monica is performing very well," Mayor Richard Bloom said, addressing the crowd from the Whole Foods stage on the Promenade.
"When we started this campaign three years ago, we knew that keeping spending dollars in the city was a key to our prosperity and it's worked," Bloom said. "Our employment is up and the idea of Buy Local is getting more and more popular."
The crowd could only agree – particularly when Bloom and Chamber of Commerce CEO and President Laurel Rosen started handing out raffle prizes.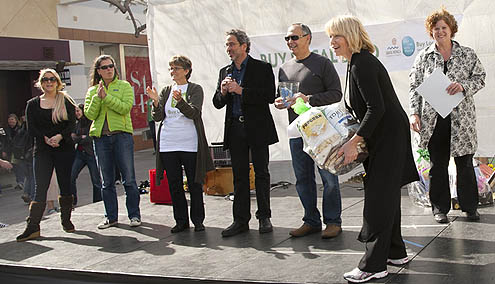 Chamber President Laurel Rosen (front right) hands out free gifts Saturday at the second annual Buy Local Weekend.
The lucky recipients were shoppers who had "been caught with their (local) receipts showing," and had their names entered into a lottery pool for gift baskets created by local businesses and other prizes.
More than 80 local businesses set up booths along the length of the Promenade and business owners generally concurred that the event allowed them to meet local residents who ultimately define their business sustainability.
"All our exhibitors were very enthusiastic because it looked like crowds were shopping nonstop, even in the rain," Rosen said. "Businesses here are recognizing they have to work harder.
"You can lament all you want but, at the end of the day, you've got to get out there and work creatively," she said.
Rosen felt that the citywide Buy Local Scavenger Hunt is an excellent example of the creative ethos. Since March 17, participants could pursue scavenger items listed on the City's Buy Local website, with clues that sent them to businesses around town, some more readily discovered than others. Winners will be announced April 2.
"It's just a great way to find undiscovered parts of our city," Rosen said. "It's an incredibly clever game, and the prizes are outstanding."
All types of stakeholders in the local economy were on hand. Valerie Griffin is the chair of the Wilshire Montana Neighborhood Coalition and was enthusiastic about the event.
"Part of what makes Santa Monica so 'walkable' is that we have good, healthy, individual businesses," she said. "It's easy and a pleasure to discover on foot what this city has to offer."
Participating local businesses ranged from newbies like Naam Yoga, opened barely five months ago, to companies that have been serving Santa Monica for years.
Mary Jane Graves of Ladybug Jane offers organic vegan flavored lip balms (manufactured locally). She said that her aim is to help educate residents about not just her product but healthier ways of living.
"Like a lot of Santa Monica, our brand is about taking care of the planet and encouraging sustainability," she said.
Fancifull Gift Baskets, which provided most of the gift baskets given out in the raffle, also lives the green mantra. They have stopped producing catalogues to save paper and create multi-occasion artisanal gift baskets that rely on sustainable local products.
Triathlon Lab, on Pico Boulevard, has been dubbed Top USA Triathlon Retailer by Triathlon America and their booth was awash with all things bike, run and swim, with local athletes deep into questions of best shoe fitting and the facility of 20-gear triathlon bikes.
"This is not just a great, health-conscious community," CEO Lloyd Taylor said. "The Chamber here really goes the extra mile. We have a shop in Redondo Beach and they've never helped us like this."
Mary Brambila of Brambila Salon also said she was grateful for events like Buy Local that allowed her to greet new customers she might not otherwise have met.
"The city is very welcoming," Brambila said. "This kind of thing means new business for us."
Ron Alcalay of Vital Hemp, makes clothing and other products out of hemp in a local manufacturing site. While enthusiastic about the event, he was a bit more circumspect about the Buy Local Campaign.
"I totally support their championing our local businesses," he said. "But when the Buy Local girl brought by the tote bags for us, I had to check and see. Their labels said 'Made in India.'"
The "Show Your Receipt" raffle receipts came to more than $44,000 for the day spent at local businesses.