By Jason Islas
Special to The Lookout
May 25, 2011 – As the 17th annual "Bike Week LA" drew to a close last Thursday, Santa Monica joined the rest of Los Angeles in celebrating Bike to Work Day, with morning pit stops scattered around the city.
Santa Monicans were encouraged to ride their bikes to work
last week. (Photos by Jason Islas)
From 7 to 9:30 a.m., people passing by City Hall could stop off for some coffee, fruit and a pastry. Jacquilyn Brooks de Camarillo, Santa Monica's transportation management coordinator, greeted commuters as they stopped by.
"Last year, there were two pit stops. This year, there are five," Camarillo said. The City Hall morning pit stop served some 120 cyclists last year, almost tripled from the first Bike to Work Day in 1995, she said.
Bike commuters stop to pick up some coffee and information
in front of City Hall.
An hour after opening, 60 bicyclists had already stopped by, including a group from the nearby RAND Corporation.
Also at City Hall was an all-day bike valet for visitors and employees. Transportation Management Specialist Luis Morris, known as Lumo to the community, was parking bikes in the morning. He also took care of some basic maintenance for bicyclists.
Several business also set up pit stops throughout the City. REI on 4th Street and Santa Monica Boulevard, started offering coffee, reflective Velcro ankle straps and free bike tuning at 6 a.m.
Outreach Specialist and Santa Monica local Jennifer Day worked the table in front of the store along with Shane Quentin, who handled bike tuning.
Quentin, a bike mechanic for the Santa Monica REI, commutes 15 miles from his home in Korea Town everyday by bike or by bus.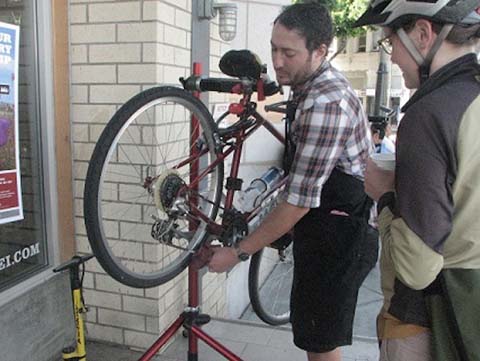 Quentin helps out a bicyclist with her chain.
Though he said biking and taking the bus require more time, he finds it more enjoyable than driving, especially since parking in Downtown Santa Monica can be a production.
All day Thursday, bus rides were free for bicyclists taking their bike with them on the bus.
To wrap up the day, Santa Monica's local chapter of the Los Angeles County Bicycle Coalition, Santa Monica Spoke, held a bike from work event at Pourtal Wine Tasting Bar on Santa Monica Boulvard, west of Ocean Avenue.
The event, which spanned happy hour, was also a benefit for LACBC, since Pourtal donated 15 percent of the proceeds to LACBC. Pourtal will continue to donate their 15 percent of their happy hour proceeds until the end of the month.