By Melonie Magruder
Lookout Staff
May 23, 2011 – Throngs of local gourmands got a chance Friday to experience what an upscale food court looks and tastes like at the opening of the The Market at Santa Monica Place.
Tucked between Ozumo and Xino on the Dining Deck, the open-stalled Market aims to offer fine dining and artisanal food boutique shopping on a fast-food lunch schedule.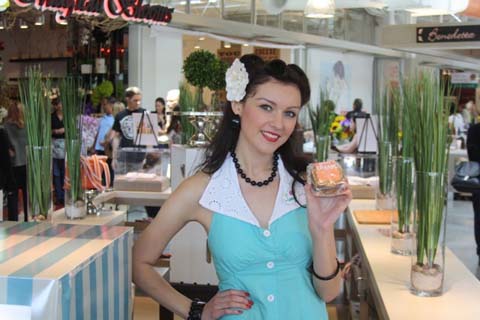 Lauren Foulk at Beachy Cream at The Market. (Photos by
Melonie Magruder)
Anchoring The Market is Primi al Mercato, Piero Selvaggio's rustic version of a real Italian trattoria, with great pasta, solid wines and lots of lilac-strewn communal tables to enjoy them at. The cafes at The Market – Primi and The Curious Palate - are designed for diners to belly up to the bar, trying different small plates that come out of the humming kitchens with astonishing speed.
Both offer packaged versions of their fare, emphasizing the local provenance of the ingredients, with Selvaggio's Norcino (just across the aisle from his fresh pasta counter) featuring a fragrant salumeria – aged salamis and dried meats, with robust Italian cheeses that will show your guests why Europeans have a separate, post-dinner course just for cheese.
Skylights illuminated shoppers and tasters Friday, spurred to further glory with large vintage wall illustrations reminding everyone "Life is short. Eat dessert" or "You should always play with your food."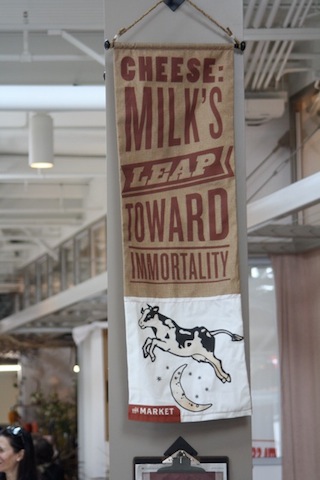 Let them eat cheese.
There is plenty to satisfy even the most indulgent sweet tooth, and The Market's purveyors are happy to serve up cooking instructions and sourcing for local produce along with that still-warm chocolate chip cookie. Aurelie Vacheresse, the Cookie Guru, is following a family tradition of food service with her own recipe and marketing plans.
"My cookie is more about the process," Vacheresse said. "I make them at my kitchen in Venice and then finish them here or package them so you can finish them at home.
"This place is great for people who want to buy quality food and take it home for dinner."
N'ice Cream saw long lines waiting for free samples of gelato and sorbets and Beachy Cream will send its retro-chic servers to bring its organic ice cream sandwiches directly to your next party.
Terry Perretz's Chocolate Opulence saw crowds wanting to taste his Sipping Hot Chocolate or the truffles flavored with pomegranate and chili.
The Market resembled an authentic Italian piazza, with strollers of all ages tasting blissfully away until, gradually, the scene resembled a Fellini-esque gastronomic orgy.
Tiffany Hofstetter was visiting from Paris, France with her boyfriend and said she was impressed with "the vibe.
"It's a really cool place as a community hangout," Hofstetter continued. "But the quality of the food I've had makes it more special."
But The Market covers other aspects of la dolce vita. Benedetta offers a holistic skincare line that uses mostly California-grown biodynamic ingredients or, as purveyor Julia Faller called it, "food for your skin."
And if shoppers get really inspired, The Gourmandise School of Sweets and Savories offers chef demonstrations, special events and afternoon cooking classes that take you from savory tarts to gourmet candy bars.
French baking chef Clemence Gossett and partner Hadley Hughes have outfitted their commercial kitchen with state-of-the-art equipment and lots of windows so that the curious can watch the demonstrations.
"We want to teach classical techniques in a non-intimidating environment," Gossett said. "And we also source all our ingredients from local farms. It's in line with community philosophy of sustainability and the quality can't be beat."
The Market's hours are in line with other Dining Deck merchants and prepared dishes may be enjoyed along with weekend movie screenings during the summer. But one could expect to see familiar faces there over time. As Gossett said, "The dedicated L.A. food community is small. We all know where to go to find the good stuff."
More information may be found at www.themarketsmp.com