By Jason Islas
Special to the Lookout
May 18, 2011 – This week is "Bike Week LA" and Santa Monica residents turned out to celebrate the event in the way they often do – by getting politically involved.
Locals told city staff that they want more bike education, safer routes to school and a more complete bike network at Monday night's community discussion of the Bike Action Plan. The meeting marked the final public input session before the plan goes before the Planning Commission and City Council for approval this summer.
"We want to send a clear message that this city deserves and expects the leading bike plan in the country," said Recreation & Parks Commissioner Richard McKinnon.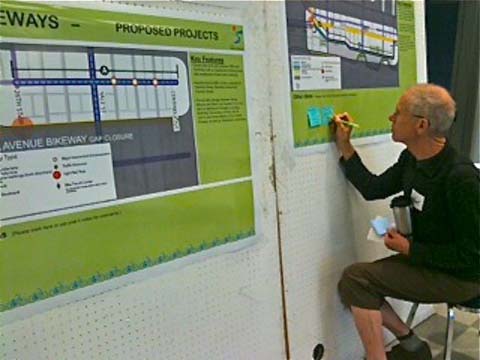 Local Bike Advocate Kent Strumpell adds his two cents. Photo by Jason Islas
To that end, City staff presented residents with a list of project proposals which residents were asked to prioritize as they gathered in small groups.
Some of the ideas presented by staff included new bike lanes on 17th Street and in Downtown Santa Monica around 4th and 5th Streets.
Staff also suggested adding bike parking, more bike centers like the one scheduled to open at the end of this summer in the parking structures at Santa Monica Place, and bike safety education and awareness for drivers and bicyclists.
McKinnon's group emphasized education as a key component to a successful bike plan, an idea that was seconded by Planning Commissioner Jason Parry.
"Something needs to be done" about 4th Street, especially at Colorado Avenue, where there is a lot of traffic and very little room for bikes, reported Santa Monica resident and bike blogger Gary Kavanagh on behalf of his group.
Planning Commission Chair Jim Ries said he would like to see an emphasis on "safe routes to school," adding that it might be easier to get kids to change their commuting habits than getting adults to.
Many people also emphasized the need for more bike parking in Santa Monica, especially since it is technically illegal to lock a bike to anything except a designated bike rack.
Addressing that issue, Lucy Dyke, deputy director for special projects, showed the crowd a timeline showing 300 more bike racks in Santa Monica, with a total of 600 more bike parking spaces, by the end of May.
Some people felt Monday's discussion left something to be desired.
"Lincoln's really the big elephant in the room," said Scott David Reiter.
Lincoln Boulevard is marked on the map as a bike route, but "it should be marked with a skull and crossbones," Reiter said.
Because Lincoln Boulevard is a section of Highway 1, it is actually under the jurisdiction of CalTrans, staff said.
Robert Ginsburg, another Santa Monica local, echoed Reiter's sentiment, adding that Pico Avenue is also dangerous and very unfriendly to bicyclists, but still a necessary route because, he said, Pearl Street, the recommended bike route, has too many stop signs to be practical for cyclists.
City staff hope that the Bike Action Plan will be ready to go before the Planning Commission by the end of June. The Planning Commission will then decide whether to pass it on to the City Council for approval and adoption.