By Jorge Casuso
September 11 -- A car was swallowed in Sunset Park when a water main broke on Euclid Street early Saturday morning sending a torrent of water down the block.
The "sink hole" just south of Ocean Park Boulevard caved in nearly five years after a much larger hole in the neighborhood created by a water-main break made national headlines in December 2002.
"The rushing water moved some of the sand fill," said Gil Borboa, the City's water resource manager. "It starts eroding soil, which finds itself to the surface. The pavement, having no support, caved in.
"The sink hole actually did swallow the car," Borboa said. "It's very rare."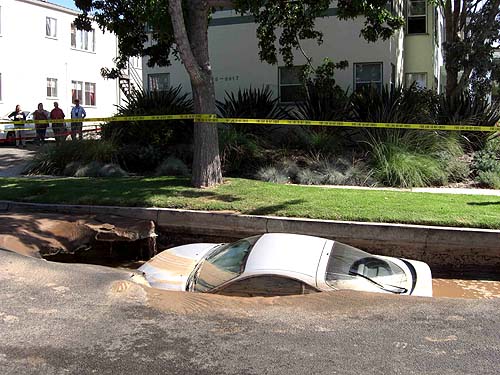 Photo courtesy of City of Santa Monica
Main-line breaks take place a few times a year, and the problem is pinpointed quickly before the water -- which gushes out at 100 pounds per square inch -- can cause serious damage, Borboa said.
Ken Legaux, who was jogging in the neighborhood when the water main broke, saw the car slowly sinking as he ran 'round and 'round the neighborhood.
"I was taking my daily jog and saw police and all these emergency vehicles," Legaux said. "All of a sudden, I realized there was a car going under. The curb started to tilt down.
"The front left tire tilted in, and the rear end was sticking up," he said.
As City workers scrambled to find the shut-off valve, the water rose to the top of the wheels of the seven parked cars, Legaux said.
"I walked, came back, and the car kept going under," he said.
The other cars were "disappearing, they were being towed away," said Legaux, who lives on 21st Street.
"By my third walk around, all you could see was the roof of the (remaining) car," he said. "Evidently, it was floating in the water.
"It was a hell of a sight," Legaux said. "I could not believe it."
Then, he said, he heard police yelling at people to get back.

"The water was rushing down Euclid Street to Eleventh," Legaux said, referring to the two-block downhill drop. "A lot of debris, rocks and sand" was being washed down the street.
Borboa said the street was closed "while we fished the car out of the hole."
The main line has been repaired, and the street is being fixed, he said.
"It will take seven to ten days," Borboa said.